After polishing off the last few mince pies, we like nothing more than trawling through last year's channel preference data!
We've been tracking the channel preference of UK customers since the start of 2017, and how this is changing continue to be pretty noteworthy. Some 21,290 UK consumers shared their banking channel preference across 2019 on Smart Money People, and below we playback some of what we've learnt.
Let's start by taking a look at the below table. What we've found is that for the very first time, banking apps have established a commanding lead over online banking as the UK's preferred channel. And as preference for apps grows, fewer of us favour online banking.
While the jump in preference for apps is actually pretty significant (from 39% in 2018 to 45.7% in 2019), overall customer preference for digital channels (mobile apps and online banking combined) has climbed by just 1%. 79% of customers prefer digital channels in 2019, up from 78% in 2018 and 75% in 2017.
21% of customers still prefer to deal with their banks via branch and telephone, with customer preference for telephone banking actually increasing to 12% in 2019, up from 11.4% in 2018. When it comes to non-digital channels, the highest preference for telephone banking comes from customers aged 18-24. 23.6% of customers aged 65+ prefer branch banking.
Our data found that customers aged 18-24 are the biggest advocates of mobile apps, with some 60.8% preferring apps over other channels. But these customers also remain the biggest fans of telephone banking, with some 14% reporting this to be their preferred banking channel. Younger customers still value the ability to speak with their banks, and they'd rather do this via the telephone than by popping into a branch.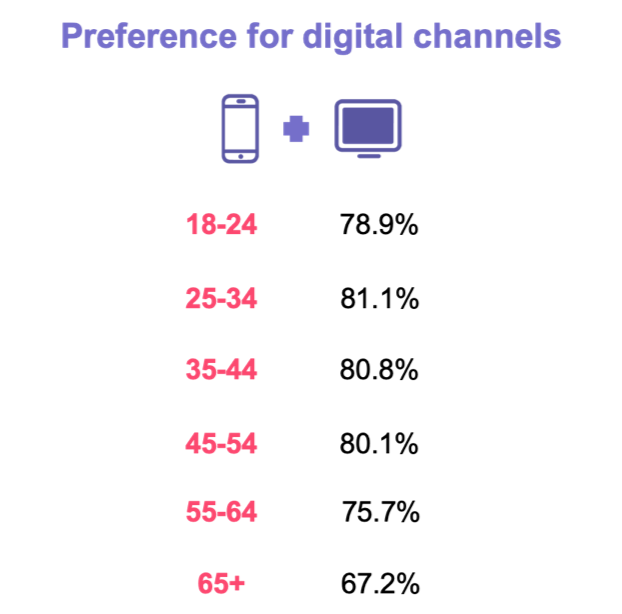 So, while customer preference for banking apps has continued to climb in 2019, being able to speak to your bank, on the phone or via a branch remains important for many customers. And while younger customers are increasingly keen to bank via apps, they also remain the biggest fans of telephone banking, particularly when dealing with new or complex issues.
Customers aged 65+ are once again the biggest advocates of online banking, with 50.8% preferring this channel. 16.4% reported mobile apps as their preferred channel in 2019, up from 9% in 2018. Branches remain the preferred channel for some 23.6% of customers aged 65+, down slightly from 25.2% in 2018. So with fewer customers preferring branch-based banking, it's easy to see why they're closing in record numbers. But our research suggests that they remain important for older customers in particular.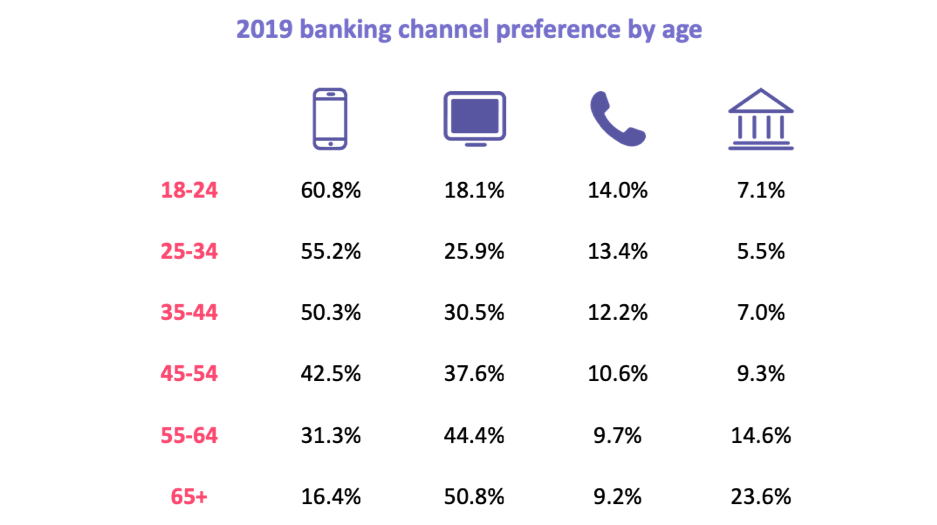 And not all customers of app-based banks prefer app banking.
86% of customers of app-based banks Monzo and Starling said that they preferred banking apps. 10% said that they preferred online banking.