Set against a backdrop of intense competition, the Consumer Credit Awards have returned to ask customers to share their thoughts on the firms they do business with. And with 10 weeks of voting having flown by, today's the day we can announce the Consumer Credit Awards 2019 Finalists.
…but remember, only your feedback helps to determine the winners. And as voting closes on the 23 rd June, there's still plenty of time to make your voice heard!
Click here to vote for our lender categories
Click here to vote for our partner categories
The Consumer Credit Awards, with headline sponsor Lantern, are voted for by UK customers, so there's no judges panel behind our awards. Likewise, splashy marketing campaigns and big advertising budgets don't play any part in determining who takes home a Consumer Credit Award.
So far, just over 20k votes have been cast, and with a few more weeks of voting left, we're hoping that a few more of you will get involved and have your say.
Last year, just over 27,000 consumers took part in the voting process, and we've some the Consumer Credit Awards talked about in trade publications such as Loan Talk, AM Online, Credit Connect, CCR Magazine as well as other publications including The Guardian and Spectator Money.
And so, without any further ado...the full list of 2019 Finalists can be found below: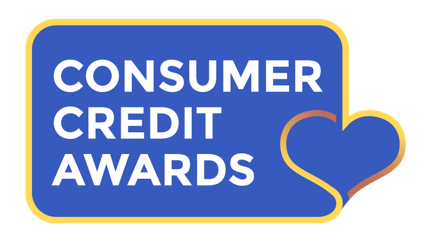 2019 Finalists
6 top level awards
Firm of the Year: Fair For You, Tandem Bank & 2 firms announced on the night*
Innovation of the Year: LiveLend, Tandem Bank & 2 firms announced on the night*
Customer Service Champion: Bamboo Loans, Skyline Direct & 2 firms announced on the night*
Treating Customers Fairly Champion: Admiral Loans, Fair For You & 2 firms announced on the night*
Digital Champion: Drafty, MotoNovo + 1 firm announced on the night*
Best Newcomer: afforditNOW, Conduit + 1 firm announced on the night*
*voting remains open until the 23rd June, and so there's still all to play for when it comes to our top level awards.
10 product specific awards
Best Car Finance Provider: 1st Stop Group, Admiral Loans, Amigo Loans & MotoNovo
Best Consumer Credit Broker: Aspire Money & Click Finance
Best Credit Card Provider: American Express, Barclaycard & Tandem Bank
Best Guarantor Loan Provider: Amigo Loans & Bamboo Loans
Best Loan Provider (lending <£2.5k): Ferratum, Mr Lender, PiggyBank & Sunny
Best Loan Provider (lending >£2.5k): Admiral Loans, Bamboo Loans, Everyday Loans & Oakbrook Finance
Best Logbook Loan Provider: Mobile Money & Varooma
Best Pawnbroker: H&T & Cash Converters
Best Retail Finance Provider: afforditNOW & Hitachi Retail Finance
Best Bridging Finance Provider: Aspen Bridging, Mint Bridging & MT Finance
2 partner specific awards
Technology Partner of the Year: Telrock, Qualco, Equiniti Credit Services, Bonafidee & SmartSearch
Innovation of the Year (Partner): Credit Kudos, Flexys, LendingMetrics, elanev & Zoot
About our Partner Awards
No consumer credit firms operate in a vacuum, and the partners that firms choose to work with can play a vital role in ensuring that firms deliver great customer outcomes, which is why we have two partner-specific awards this year.
These two awards are voted for by financial firms, who can vote here.
2019 Awards Event

The Consumer Credit Awards winners will be announced on the 11th July at Cafe de Paris in London. This awards event brings the industry together to celebrate the most customer-centric firms, and includes a great mix of networking and entertainment plus a few surprises to help bring the event to life!

If you'd like to attend the awards ceremony, please contact the Smart Money People team today

#mc_embed_signup{background:#fff; clear:left; font:14px Helvetica,Arial,sans-serif; } /* Add your own Mailchimp form style overrides in your site stylesheet or in this style block. We recommend moving this block and the preceding CSS link to the HEAD of your HTML file. */

(function($) {window.fnames = new Array(); window.ftypes = new Array();fnames[0]='EMAIL';ftypes[0]='email';fnames[1]='FNAME';ftypes[1]='text';fnames[2]='COMPANY';ftypes[2]='text';fnames[3]='ADDRESS';ftypes[3]='address';fnames[4]='PHONE';ftypes[4]='phone';}(jQuery));var $mcj = jQuery.noConflict(true);