---
In 2020 high streets, schools and offices became no-go zones overnight, as the successive lockdowns were enforced and people became more reliant on digital services than ever before. At Smart Money People, the UK's largest financial services review website and insight business, we found that when it comes to banking, the over 65 demographic embraced the change and adopted digital in their droves.
Data we collected found that banking apps took a commanding lead in 2019 as the nation's preferred channel and this held steady in 2020, according to the views of almost 32,000 customer's whose preferences were collected. The findings also show that overall customer preference for digital channels (banking apps and online banking combined) remained consistent with 2019.
Preference for branches fell by 1%, continuing the gradual downward trend we have seen in recent years. In contrast, customer preference for using the phone to speak with their bank grew by 1%.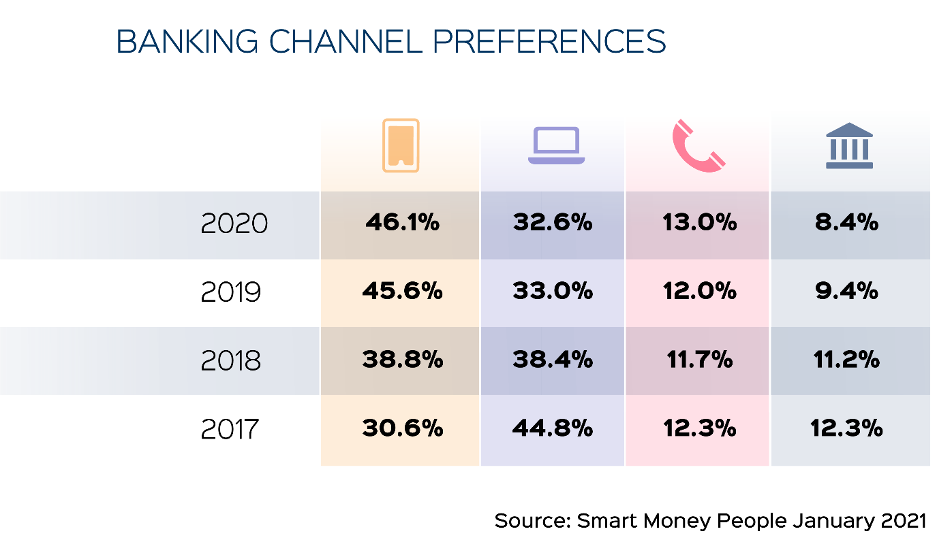 Customer behaviour in the over 65s
Looking at customers aged over 65, we found that digital channel preference (banking apps and online banking combined) grew by 3.5% versus 2019, compared with little to no change across all other age groups. And while over 65s are most likely to prefer online channels, the increase has almost completely been driven by mobile app adoption.

In contrast, the share of over 65s preferring to deal with their banks via branch fell by 5.4% to just 18.2%, meaning that apps overtook branch as a preferred channel in 2020.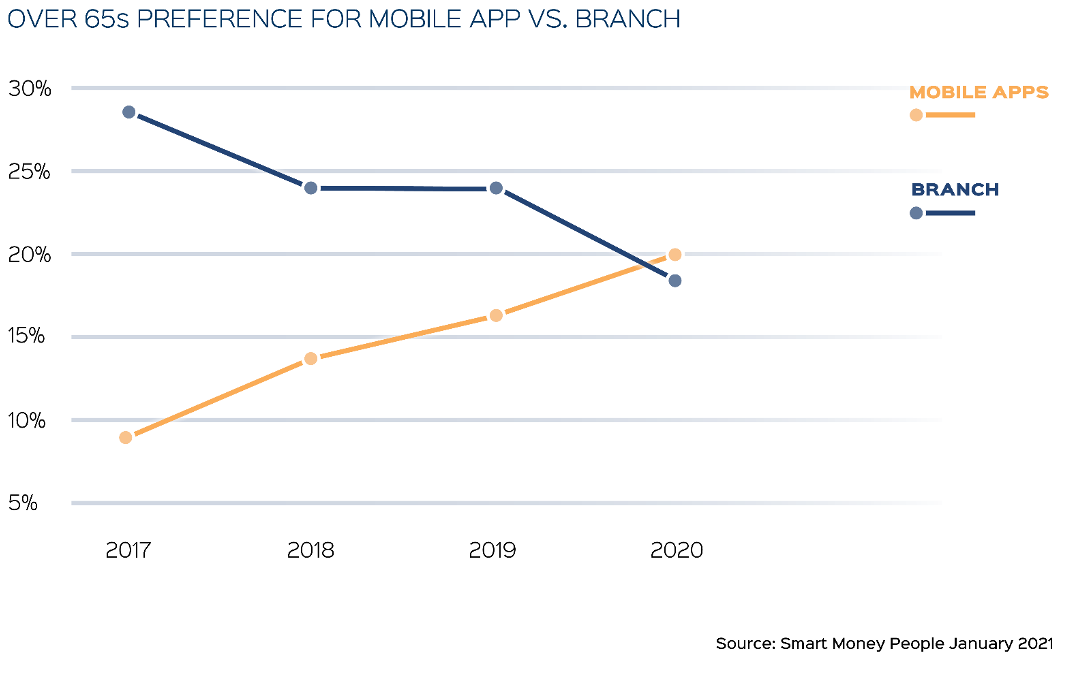 As expected, Gen Z, those aged 18-24, continue to be the biggest advocates of mobile apps to satisfy their banking needs, with 57.6% preferring apps over other channels. However, growth in mobile app preference slowed when compared to 2019 across all other age groups except for the over 65s.
Our data shows customers aged 18-34 are the biggest fans of telephone banking, indicating that whilst mobile apps are popular with younger customers, who are typically less financially experienced, they still value being able to speak to their banks.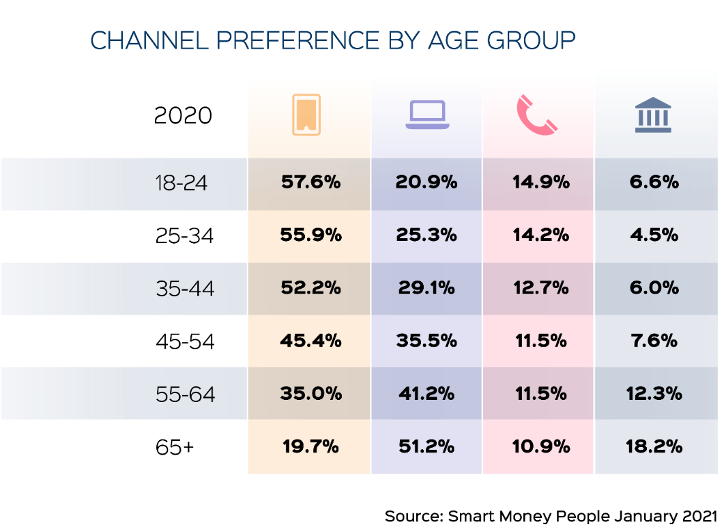 The death knell for high street banking?
Jacqueline Dewey, CEO of Smart Money People commented: "Cash is out, digital is in. The big question is whether the High Street banks see this as an open invitation to close more branches and ATMs, which are shutting at a faster rate than pubs and petrol stations in many small and rural towns. HSBC have recently announced plans to close another 82 branches, claiming that only 10 per cent of its customer contact is now happening face to face.
"These may prove to be irreversible changes. If so, there must be pressure on the banks to do even more to protect their customers from the increasing number of financial scams. They must use savings to further strengthen their online and mobile systems to protect the vulnerable and those less confident with being online."