Whether you're planning to spend tens of thousands, a few hundred pounds or the national average of just over 20k on your wedding, as a significant investment of your time and money you should strongly consider protecting the big event with specialist wedding insurance. With all the planning and anticipation that couples and their friends and family put into organising a wedding, it's only natural to hope and perhaps expect that everything will go smoothly, but how could wedding insurance help if things don't go quite as expected?
Our guide to wedding insurance is here to walk you up the aisle of wedding insurance pros and cons. We will introduce you to what wedding insurance can cover and hopefully give you a better idea of which providers you may want to say 'I do' to.
Do I need wedding insurance?
If you're spending a lot of money on your wedding day, insurance may seem like an obvious choice but for those on a more modest budget it's often viewed as an additional expense that could perhaps be cut. Whatever your overall spend, you should consider the time and effort that has gone into arranging your wedding plans and if you would not be able to financially afford to lay on a second wedding date should anything not go quite to plan, wedding insurance should be an expense you ought to factor in. If you are on a tighter budget, the good news is that wedding insurance can cost as little as £50 depending on the elements you'd like to cover.
There are of course other types of protection you may like to call upon to provide reassurance along the way, including potentially making use of Section 75 of the Consumer Credit Act by paying for items between £100 and £30,00 with your credit card. However, when it comes to finding a new venue at the last moment or rebooking your whole day due to extreme weather conditions, this type of cover is something insurance only can provide.
Where to buy wedding insurance
When you're planning a wedding your life can become a sea of spreadsheets featuring supplier details, so it helps to know where to look when you're selecting wedding insurance. In many cases you may find you have a limited amount of cover for some items under your home insurance or that it is possible to add on cover at a fixed level. If you go down this route be sure to check this type of cover adequately protects the different elements of your big day and not just personal items.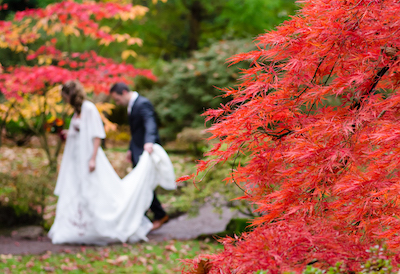 It's also possible to find insurance in places you're likely to be lingering in the run up to your wedding. High street names such as Debenhams and John Lewis who offer wedding list services also have tiered wedding insurance provision. Finally, as you'd expect, there are a number of specialist wedding insurance providers, some of which feature on comparison sites but not all. You'll find our advice on the best wedding insurers further down in this guide, but whomever you choose to go with, don't forget to check they are FCA regulated. This will mean you will be protected under the Financial Services Compensation Scheme (FSCS) should anything happen to your provider or if a dispute should arise.
When do I need to take out wedding insurance?
Ideally, you should have wedding insurance in place when you start making bookings, paying deposits and generally making financial commitments. However, if your big day is just a few weeks away and you've only just started thinking it might be a good idea to take out some protection, be reassured that you can buy wedding insurance up to 24 hours before the day of your ceremony or up to two years before the big event. If you're leaving it late, what you will need to bear in mind is that you won't be covered for any problems you have already encountered, so if you already know your wedding venue has closed unexpectedly or a member of your wedding party is seriously ill and you need to rebook, insurance won't help at this stage.
As you plan your wedding you will need to monitor your spending in line with your insurance provision. If you've taken out cover at one level and find that you blow the budget along the way, you'll want to up your cover appropriately to cover different elements adequately. Failure to up cover on aspects of insurance that are capped will mean you suffer a shortfall if something goes wrong.
What does wedding insurance cover?
While wedding insurance won't get you your cash back if you have a change of heart and decide that marriage or your partner isn't quite for you after all, it can offer peace of mind when it comes to lots of other important components that contribute to your big day.
Most of this cover will relate to the suppliers you choose to work with. If your venue goes bankrupt or burns down in a fire or your photographer, DJ, band or caterer fail to turn up, you can have cover in place to allow you to rebook if necessary or get money back.
Wedding paraphernalia such as rings, tuxedoes, gifts and dresses can also be covered for loss or damage. However, again it's important to note any cover caps, excesses and exclusions and you may find with particular insurers that you need to add-on some aspects of cover. You should also note that while rehearsal, ceremony and reception cover are usually included as standard, insurance for other aspects of your marriage – such as stag or hen dos or your honeymoon – will need to be purchased separately.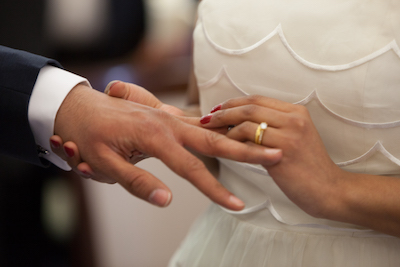 One further aspect to consider is the role of your guests and key figures in your big day. Most providers will offer some financial protection for important members of the wedding party, so that if they fall seriously ill or there's an unexpected death and you need to rearrange your wedding you can do so at no extra cost. And, while you'd hope all your guests will be on their best behaviour, sometimes accidents do happen that could lead to damage to premises or rental equipment. Should this occur you would want to have liability insurance in place to match the level of any potential claim. You will find many venue providers will stipulate that you need to have a particular level of cover in place in order to work with them.
If you're planning to put up a marquee, whether on your own lawn or at a country house you've hired for your celebrations, this will usually be an added insurance expense. Perhaps less surprisingly, the inclusion of swords in your ceremony won't usually be covered either and if you're planning to put on a fireworks display our hire entertainment that involves fire, you'll want to check those putting on the display have their own insurance in place.
The pros and cons of wedding insurance
As with all kinds of insurance, the pros and cons of wedding insurance usually surround whether you have the cover you need, if your insurer pays up and whether the cost is justifiable. On the pro side, if you take out insurance shortly after the proposal, whether something goes wrong well in advance or at the last moment your insurance should mean that everything is not lost. However, you will need to be acutely aware of any exemptions, stipulations and caps on cover. For example, you're likely to be covered for cancellation in the event of extreme weather conditions such as a hurricane but a bit of cloud and drizzle won't lead to a pay out. If you decide to get married abroad you may find that your cover is not quite as substantial and some wedding insurance providers won't cover particular destinations, so be sure to check before you book or buy.
Wedding insurance can seem like an additional expense at what is already an expensive time but with money often contributed by friends and family as well as the groom and bride to be it is frequently (but not always) a sensible spend.
Who offers the best wedding insurance?

The best wedding insurance provider for you will in part depend what's on your essential cover list. Research who covers what and at what level to narrow down the field. When it comes to customer service, quick payouts and unexpected exemptions, why not read our reviews to see what other bride and grooms thought of their wedding insurance providers? Don't forget to add details of your own experience to our reviews once you're hitched, it will go a long way in helping others to plan their big day.
As you're now clued up on wedding insurance, go ahead and check out our community wedding insurance reviews to see which provider suits you best.