Whether you're heading off to university for the first time this autumn or returning to your studies, you may well be putting your finances into focus in coming weeks and perhaps sorting out important details like bank accounts, overdrafts and credit cards. If you're looking for the best student credit cards, we're here to help. But first things first, why do you want a credit card? How much do you know about them? And, are you sure you can handle the temptation?
The pros and cons of student credit cards
Most students have access to an interest free overdraft as part of their student back account, so in the first instance, this is likely to be the cheapest way for you to borrow. However, it may make sense for you to keep a student credit card for use for big-ticket spending, online purchases or in case of emergencies. If you do decide to take out a credit card you'll need to be confident that you can resist the temptation to max it out. After all, there's a long term between student loan instalments and you don't want to get into a situation where your debt starts to spiral!
Being able to manage a credit is an important life skill and showing you can make payments on time and not build debt could help improve your credit score for the future. Plus, having a credit card can provide you with additional protection as a consumer. Under Section 75 of the Consumer Credit Act, on purchases of over £100 and up to £30,000 your credit card provider is jointly responsible for any breach of contract or misrepresentation, even if you've only paid a deposit on your card. This could help you in circumstances where a company you buy from goes bust or supplies goods that are in need of repair or not as described.
With this in mind, if you're planning to buy a higher value item or book a holiday it's wise to do so on a credit card. It's worth noting the protection also applies to foreign transactions and those made over the telephone or online. If you are planning to make a big purchase on credit card, you should still try and save in advance. but use your credit card for the payment before transferring your savings onto the card to clear the balance.
How is a student credit card different?
Credit card providers will take into account your individual circumstances when deciding what credit if any to extend to you, however, it's important to realise that student credit cards tend to have lower credit limits and higher interest rates. Those on the market at the moment tend to hover between £300-£500 with some providers advertising limits of £1,000 depending on your circumstances but the APR on these cards is generally less attractive.
Not sure how APR works or why it is important? Take a look at our introduction to APR, the key thing to remember is the longer you take to pay off an item purchased on your credit card, the more it will cost you. It's good to establish healthy habits early on and pay off your balance in full each month; otherwise you could be paying for that outfit you bought for a birthday night out for months or even years, with interest mounting. As well as knowing your APT, you ought to make sure that you're aware of penalties for late payment or going over your limit.
Not only will there be a monetary cost associated with such events but they could also harm your credit rating, which you'll need to rely on for future applications for things like loans, car finance agreements, taking out phone contracts and mortgage applications. If you decide to take out a student credit card, view it as an opportunity to prove your creditworthiness to put in you in a good position for post graduation
How to apply for a student credit card
Many banks may offer you a credit card as part of a wider student finance package that also includes a student current account with overdraft. Some of these accounts do come with attractive free gifts such as Nationwide's four-year coach card that secures you cut price travel for what's likely to be the full length of your studies.
Some, student credit cards may be open to you whether you hold your student current account with a provider while others will stipulate you are an existing customer. However, when choosing the best student credit card for you, it's best to compare and contrast things like APR and credit limits as well as any extras that may be on offer.
To take out a credit card you'll need to be able to prove your identity, provide details about your income and you'll usually need your national insurance number too.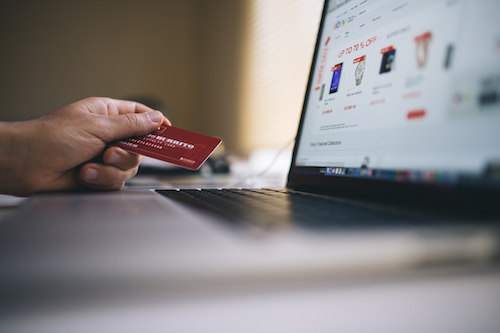 Student credit cards and your credit score
The fact that most students don't have a regular income means you're likely to be able to access lower limits and higher APR cards only. A lower credit limit should in theory stop you from getting too carried away with spending, though some cards will offer the option of having a parent co-signer added to the card. A co-signer will be jointly responsible for the debt, which means if you default on payments they will be chased for the money.
Having little or no credit history will also restrict what providers are willing to offer you but with good management you should find your credit score improves. Not sure how your credit score is shaping up? You may want to consider getting a credit report, why not take a look at our blog post: Which credit report is best?
Be aware that bad management of credit could make it difficult to gain credit in the future, which may mean you're only able to access more expensive such as credit cards for bad credit or not be granted any at all.
Which is the best student credit card?
Fancy freebies that come with part of a student finance package may catch your eye but along with weighing up how wallet-friendly your credit card really is, you should also look out for useful features to help you keep on top of payments. With providers including the Halifax you can register for weekly text updates on your balance and payment due alerts. Many credit card providers also offer access to apps to make managing your credit card accounts easier. Whether your provider has an app to help you keep track of your spending or not, it's very important that you check your statements regularly to ensure you're aware of payment dates, paying over your minimum payment where possible and keeping an eye out for potential fraudulent activity on your account.
If you're considering signing up for a student card make sure you use our onsite resources to find out how real customers rate potential providers: which student credit card is best for you?