Who is the best credit score provider?
Thinking about applying for some new credit soon? A new car, perhaps, or a holiday which you'll pay-off later? The first thing you should do is to take a look at your credit score. A recent study by Which? shows that only 47% of households had ever checked their credit score.
Your credit report is a key item to consider when taking out any form of credit - it basically tells you how likely you are to be accepted, as well as telling lenders how likely you are to pay back the loan (on time!). If you haven't checked it recently, you could even be in for a nasty surprise.
While once there was just Experian ruling the roost, there are now a number of competitors - including some free services which offer something similar, and in some cases - better.
Should I pay for my credit report?
In short - no! All of the big credit reporting companies have free trials available, so unless you are making use of some of the more advanced features, it's best to give them a free trial to see if they give you what you need. Even with the likes of Equifax, you can always get your basic statutory credit report for £2, so consider this before paying for any of subscription packages.
If you do want to take out a free trial, you'll still need to stump up your credit card details beforehand. Remember to cancel before the trial period ends! Many people are unknowingly subscribed to credit reporting websites because they've forgotten to cancel a free trial. Neither Noddle or ClearScore have this requirement being truly free.
How we worked out which was best
We looked at the six biggest credit scoring companies on the market. To try and make the comparison fair, we looked at three key areas.
Accuracy of credit products: Most of us have a "feeling" of were our credit score lies, either poor, average, or pretty good. With this in mind, we compared what we expected our score to be vs. the score we received. We looked for obvious omissions on our credit report (such as missing credit cards), or any errors.
Ease of use: We're considering two factors here - how quick and easy is it to sign up, and how pleasing is it to use the website overall.
Value for money: With most of the paid reports costing £14.99 per month, we consider whether the services they provide are actually worth the cost.
Our Panel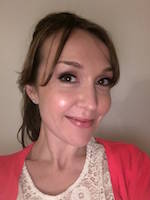 We asked six participants to review each of the six credit check provider. Two of these were lifestyle bloggers, Kerry of livingonabudget.co.uk (left), "a single mum saving money in every way possible in order to get on the property ladder", and Hannah (right) of feaststylethrive.com - who follows a mantra of "spend more wisely".
Our sample set includes everything from a single male with little credit usage, a mortgage-free married woman with two children, and everything else in between, in order to sample a wide demographic.
Noddle
Our overall panel rating: 3.8/5
Accuracy of credit products: 3.3/5
Ease of use of website: 4/5
Value for money: 4/5
Launched in 2011, Noodle is a "free for life" credit reporting service by Callcredit, one of the "big three" credit check agencies, along with Experian and Equifax (below).
Noodle is truly free, though it can feel fairly aggressive with trying to match you to credit cards and loans, and via their paid Noddle Improve service. It took a few of our panel several attempts to be "found" by Noddle, and even though the service is free, it still requires card details to verify who you are. That said, it is all very quick to sign up and easy to use the site.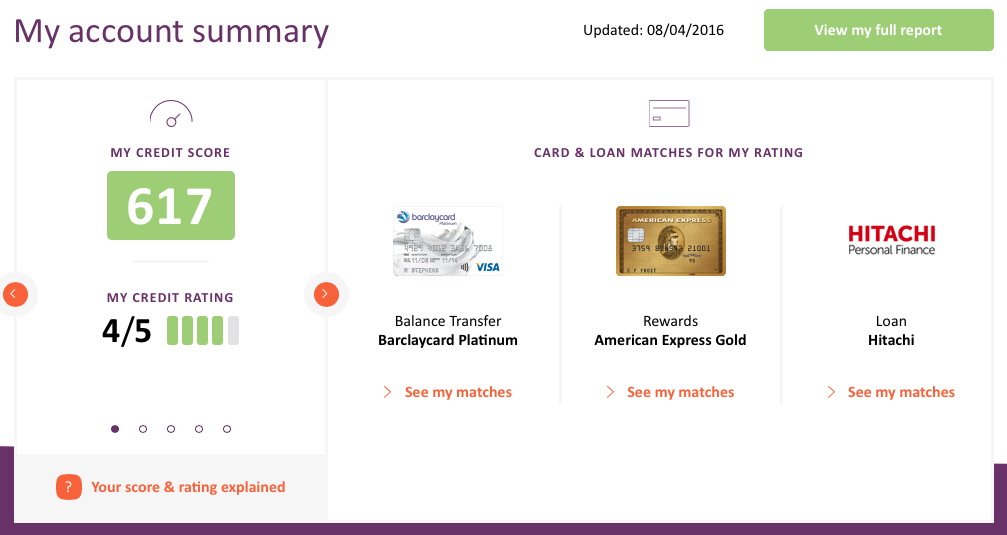 The Noddle Improve service is only £30 for 12 months, so it's still a lot cheaper than the competition, however, others are offering similar versions of this during their 30-day free trial periods.
Most of our panel commented that the data seemed somewhat incomplete, missing major things like store cards and credit cards, which has an impact on the validity of the check. It's still useful to get a snapshot of your score, and given that it is free, it could make sense to use it alongside a credit check from one of the paid services.
View our community reviews of Noddle
ClearScore
Our overall panel rating: 4.6/5
Accuracy of credit products: 3.8/5
Ease of use of website: 4.9/5
Value for money: 5/5
ClearScore launched in 2015 and has become popular for it's ease of use - as they put it "your credit report laid out beautifully".

This was an overwhelming favourite of our panel. Popular comments included a really attractive looking and exceptionally easy to use website, particularly when compared to the others.
Signing up was also very quick and without problems, and ClearScore are leading the way with an iPhone app, and even an Apple Watch app which is possibly the easiest way to keep an eye over your score!
The only thing that let ClearScore down was that some of our panel noticed gaps in the data. As with Noddle, it seems that zero cost might come at the expense of completeness of data.
To monetise, they also employ a Noddle-like credit card and loan recommendation upsell, though ClearScore doesn't push you towards these products quite so hard.
Our panel commented on the cleanness of the dashboard, and how the website is the only one that felt modern. Another favourite feature was a simple display of "positive and negative things on your file" which can be used to improve your score.
It also scored highly in our customer reviews, with a perfect rating of 5/5 as of May 2016, and all of our panel said they would continue to use the service.
View our community reviews of ClearScore
Experian
Our overall panel rating: 3.3/5
Accuracy of credit products: 4.4/5
Ease of use of website: 3.6/5
Value for money: 2/5
Experian, or Experian CreditExpert, has been supplying credit reports to consumers since 2002, and is easily the biggest of the companies here.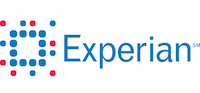 Our panel commented that if they were going to pay for a credit reporting service - it would definitely be Experian given that the data seems to be the most accurate, however, with free alternatives available, it would be hard to justify the cost.
Experian was a clear winner in terms of the accuracy of data with only one of our panel spotting errors on the report, while another said it was "very accurate and holds all the data you could ever want on your account."
As with other free trial offers - Experian requires a credit card to sign up, and users infamously can't easily via the website.
Other features our panel loved were the useful and visually appealing PDF downloads, and a " credit report pros and cons" which make it super easy to see where you could make improvements to your score.
Our Smart Money People community also rates it highly, calling it a "useful' and "very good service", but most reviewers mention that it is "expensive" and can be "difficult to cancel".
View our community reviews of Experian
CheckMyFile
Our overall panel rating: 3.5/5
Accuracy of credit products: 4.3/5
Ease of use of website: 4/5
Value for money: 2.3/5
CheckMyFile has the unique selling point of aggregating scores from several data providers - you can see a total of eight scores on your dashboard. Data is pulled in from public sources, CallCredit, Experian, and Equifax, which all of our panel said was really helpful and gave a clear, well-rounded snapshot.

It's definitely CheckMyFile's greatest USP and one which is easy to understand - their graphical means of representing the data was also well received.
It does however, adopt the "free for 30 days then £14.99 per month after that" model, despite still trying to make money from credit card and loan referrals, though these weren't half as obtrusive as the free credit check providers.
Our panel had mixed feelings on CheckMyFile's value, with one saying that the free options would outweigh the fact that you get a few more scores included, though others commented that if CheckMyFile uses data from the "big three" then it makes sense to view it all in one place rather than go to each individually.
View our community reviews of CheckMyFile
Equifax
Our overall panel rating: 2.8/5
Accuracy of credit products: 4/5
Ease of use of website: 2.5/5
Value for money: 2/5
One of the least well received credit check sites was Equifax, with our panel commenting that signing up to Equifax was like using an early-2000s era internet. It's obviously a legacy system which is generally slow and quite clunky to use, and does nothing to excite the user about what is otherwise a pretty dry, but important subject.
We also didn't particularly understand having to "order" a credit report, and separately "order" a credit score, having just created an account. That said scores were generally very accurate, as you would expect, and on par with Experian.
Common complaints were that Equifax was considerably harder to navigate, and slow to access specific data.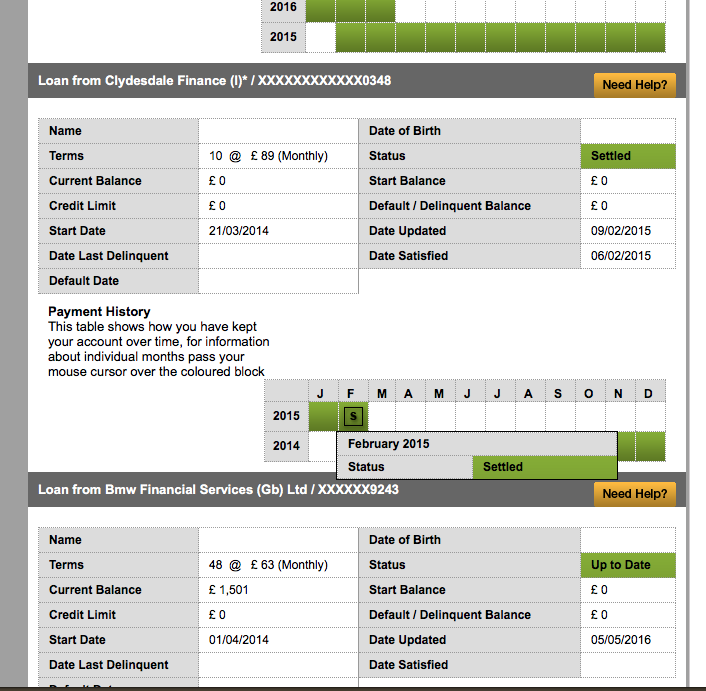 Operating on a 30 day free trial, then £14.99 thereafter, our panel unanimously said they would not continue to use the service after the free trial period ended.
It's perhaps one that is geared towards the lenders (who buy our consumer credit data) rather than the consumers themselves, but if they're charging £15 a month for it, we think their user experience needs a lot of work, especially compared to the newer, and more consumer friendly Noddle or ClearScore.
View our community reviews of Equifax
MyCreditMonitor
Our overall panel rating: 3.0/5
Accuracy of credit products: 3/5
Ease of use of website: 4/5
Value for money: 2/5
MyCreditMonitor launched relatively recently, and also takes its data from CallCredit.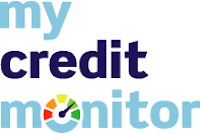 Our panel commented on the quick, 1 page sign-up process, however two of our users were not recognised by MyCreditMonitor, and the only way to verify oneself is via a postal form - less than ideal.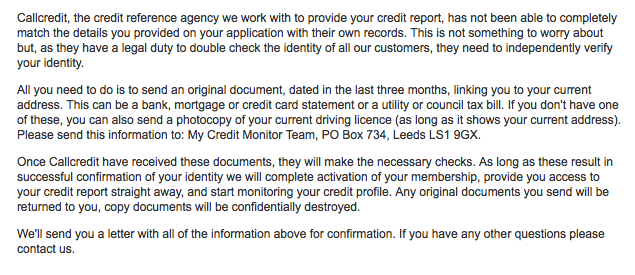 That said, with CallCredit data, we found the accuracy very close to Noddle. That is, good data where it is available, but our panel did find some gaps, with users commenting on missing credit card accounts.
MyCreditMonitor also operates the popular 30 day trial then £14.99 per month model which our panel said they wouldn't continue to subscribe to after the free trial had ended. We found MyCreditMonitor very much "middle-of-the-road" and with no real USP compared to the others, or specific features which make it stand out - it would be hard to justify choosing this credit report compared to any of the others.
View our community reviews of MyCreditMonitor
So, who offers the best credit report?
Our experiences clearly put ClearScore at the top of the pile thanks to their pleasing-to-use website, and helpful reporting, as well their free pricing model. However, if it's data accuracy you're looking for - and isn't that what credit reporting is all about - you shouldn't lose sight of Experian.
BEST OVERALL: ClearScore
BEST FOR ACCURACY: Experian
BEST USER EXPERIENCE: ClearScore
BEST VALUE FOR MONEY: ClearScore
Have you used any of these companies to check your credit score? Do you think that Experian is worth the cost, or does ClearScore give you a…clear score? View our best credit check providers leaderboard or tell us about your experiences today.