Data from the forthcoming edition of the Mortgage Lender Benchmark reveals that brokers of large firms view brand as a more important factor when deciding which lender to place a case with, versus brokers of smaller firms.
The Mortgage Lender Benchmark, run by Smart Money People, is a bi-annual independent research study designed to help lenders learn what brokers really think about them. This edition also asked 424 brokers how important a factor brand is when deciding which lender to use for a customer's mortgage.
Michael Fotis, Founder of Smart Money People, said "Lenders often wonder how important brand really is for brokers. Our analysis suggests that while for many, it really doesn't matter all that much, brokers at larger firms are much more influenced by brand than those at smaller firms."
Commenting on the results, Nick Sherratt, MD of broker Mojo Mortgages said, "We realise that brand is important to our customers and essentially this comes down to consumer confidence and trust. In a market that can be bewildering in terms of competition, rational choice can be difficult and brands often represent reassurance, consistency and status. Lesser known brands like The Mortgage Works are always better received by customers once we explain that they are a brand of Nationwide Building Society. This has a disarming effect and allows our mortgage experts to get into the fundamentals of a mortgage product much more effectively."
Brokers were also asked how they would describe each lenders' personality if they met them at a party. One broker described a lifetime lender as a "vicar in drag", and another broker described a specialist lender as "aloof, ambitious, careless". Less colourful words including 'quick', 'slow', 'friendly' and 'helpful' appear across each lender type.
'Easy' - a key indicator of good service - also appears, and while it is the most used word for banks, it falls to tenth place for lifetime lenders. The words 'dull' and 'boring' both appear in the top ten words used to describe specialist lenders.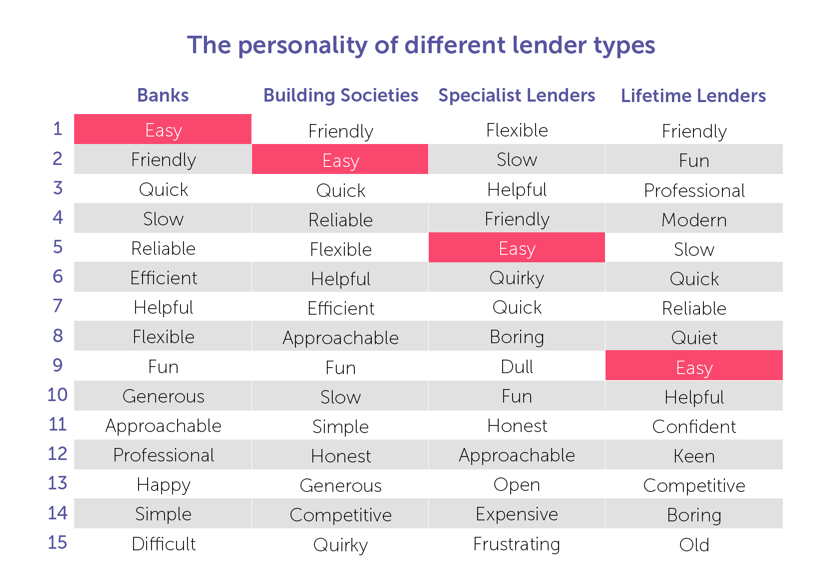 The Mortgage Lender Benchmark H1 2019 asked 424 brokers to leave feedback on the last 4 lenders they've attempted to place business with. Brokers were asked about lenders' criteria, speed, eligibility, communication and relationship managers as well as what they like about each lender and what could be better.
In total feedback about 82 lenders was received. The full report will include league table data, 34 pages of SWOT (strength, weaknesses, opportunities and threats) analysis on 34 individual lenders, providing unique insight about banks, building societies, specialist and lifetime lenders.
The Mortgage Lender Benchmark H1 2019 report will be released on the 3rd June 2019.