The latest version of the Mortgage Lender Benchmark, a six monthly assessment of the service and propositions offered by lenders, is released today. With a wealth of in-depth data from 424 mortgage brokers, the report highlights the wide disparity of service being offered by some of the UK's largest lenders.
This research is carried out by Smart Money People, the UK's leading financial services review and research website. The report includes individual SWOT analysis pages for the 35 lenders with the most feedback, that helps to provide an in depth assessment of the strengths and weaknesses of these lenders.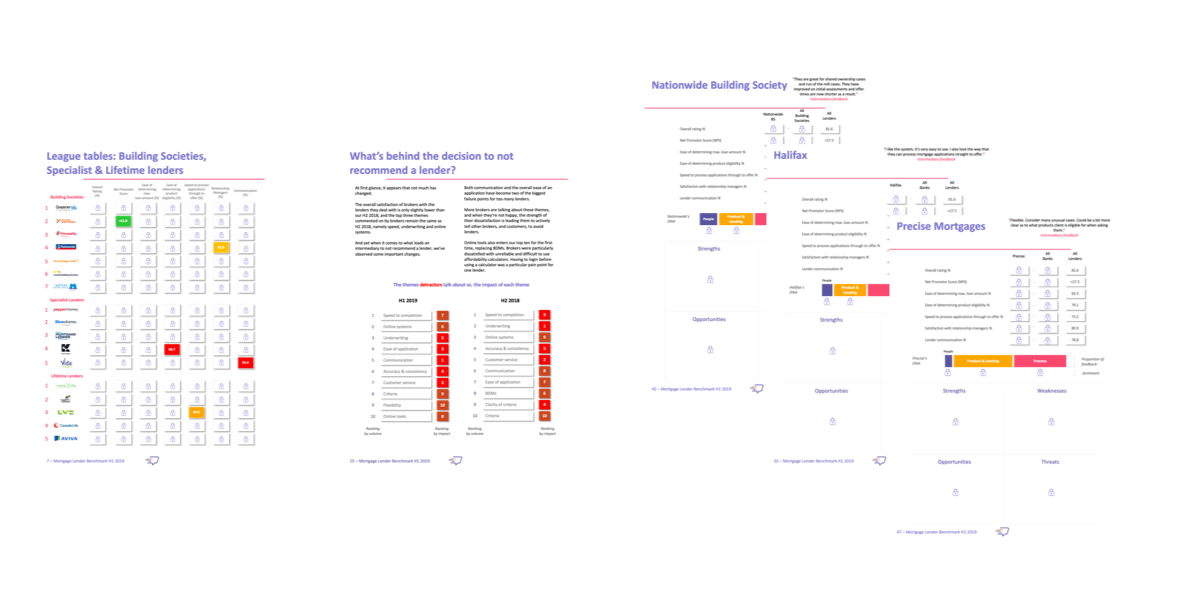 A summary version of the report is available, and can be found here: https://smartmoneypeople.com/mortgage-lender-benchmark
Firm insight:
Halifax is the UK's highest rated lender with speed and ease of application being two key strengths
Brokers are recognising significant improvements at HSBC, with its overall rating jumping past 90%, a significant improvement from H2 2018 when it stood at 78.2%
Nationwide slips a little, with the length offers remain valid for, an emerging issue
Barclays offers great rates, but not much else is pleasing brokers
Metro Bank remains the UK's poorest rated bank
Pepper Money is the UK's top rated specialist lender, with relationship managers performing particularly well
Market insight:
The overall satisfaction of brokers with the lenders with which they do business with is 81.6%, slightly lower than H2 2018. Eight lenders received overall ratings over 90%
Satisfaction with relationship managers climbs above 80%, but the ease of determining product eligibility has declined
Speed to completion, online systems and criteria received the most feedback from brokers in H1 2019, with criteria leapfrogging both online systems and customer service to become the second most commented on theme by brokers
Building societies are getting faster, and remain the highest rated lender-type overall
Specialist lenders are getting slower, and few brokers are likely to recommend them
The performance of most lifetime lenders is improving, with brokers increasingly willing to recommend them
The Net Promoter Score (NPS) of firms ranges from +76.2 to -69.2, reflecting a wide gap in lender performance
League tables

Top 5 banking lenders: Halifax, BM Solutions, NatWest, HSBC & Santander
Top 3 building societies: Coventry Building Society, Accord Mortgages & Principality Building Society
Top 3 specialist lenders: Pepper Money, Bluestone & The Mortgage Lender
Top 3 lifetime lenders: more 2 life, L&G & LV=
Brokers were asked to assess the last four lenders with which they worked. Some 1,696 items of feedback were received, covering over 80 lenders. The research delivers ratings on lenders' communication, ease of determining product eligibility, and speed to offer, among others. Brokers also left net promoter scores and overall ratings. Verbatim responses provided brokers with a way of describing what they like and do not like about particular lenders.
Brokers were also asked to describe the personality of each lender, with words including awkward, generous and frustrating all appearing in the top ten words used to describe one big six lender.