The Mortgage Lender Benchmark, the largest independent broker survey of mortgage lenders carried out in 2018, is released today.
Some 391 brokers responded to our call to rate the last 3 lenders they'd dealt with, and therefore 1,173 pieces of feedback were collected across 79 lenders. Brokers left feedback on both the service and products offered by lenders.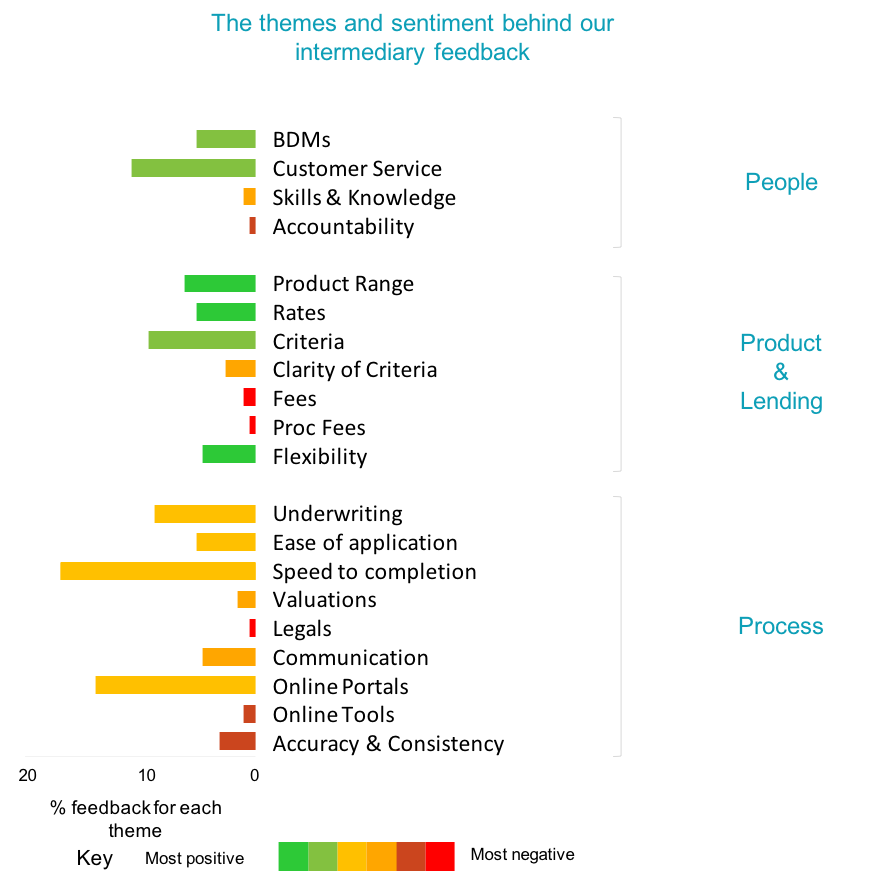 A full copy of the report, which includes full SWOT analysis on 32 lenders, is available for purchase. A summary report is available to all, and can be accessed here.
Key findings:
Intermediaries are on the whole satisfied with lenders; the average satisfaction rate is 82%
Themes like speed to completion, online portal, criteria, underwriting, customer service dominate feedback, but lenders cannot afford to ignore flexibility and clarity of criteria if they want to be recommended by brokers
Specialist lenders excel when it comes to product and lending
Lifetime lenders have furthest to go when it comes to improving their processes, with valuations, underwriting and ease of application standing out as the three key issues
Building Societies on the whole performed well, with the sector outperforming banks. Their business development managers and underwriting in particular scored well
A small group of lenders with higher than average procuration fees tend to have average or below average levels of broker satisfaction, suggesting they may be using procuration fees as a modern day "inconvenience fee"
Large high street banks may be under pressure from newer market entrants such as Monzo and Starling Bank, but, when it comes to mortgage lending, high street banks are among the top performers. Barclays and Metro Bank are notable exceptions
Individual SWOT analysis for the 32 lenders with the most feedback received point to some significant issues with a number of firms
Mike Fotis, founder of Smart Money People said, "Brokers told us clearly that frustrations with lenders' underwriting, customer service, speed to completion and clarity of criteria rankled them most. It will be interesting to see if lenders at the bottom of our league table are able to improve when we repeat the survey again in 2019."
Brokers were asked to assess the last three lenders they had dealt with. The 1,173 pieces of feedback, which referred to 79 lenders, delivered ratings about the clarity of lenders' communication, ease of determining product eligibility, and speed to offer among others. Brokers also left net promoter scores (NPS) and overall ratings. Verbatim responses provided brokers with a way of describing what they like and do not like about particular lenders.