Our latest data analysis from Smart Money People reviewers has found that currently over half of all consumers now prefer to contact their bank using their app, which is a significant rise of 19.0% from 2017. Two of the top three best banks as rated in 2021, according to our reviewers, are app-based, with Starling Bank and Monzo topping the list. However, it could change this year as there is still time to cast votes in the British Bank Awards 2022.
Despite the increased popularity of apps, we found traditional 'online banking' has been declining year after year, with a 15.2% drop since 2017 to 29.1%. However, for our reviewers, online is still the second most preferred option, and it is the most popular option for those over 65, with 47.2% choosing this channel, followed by app with 23.3%.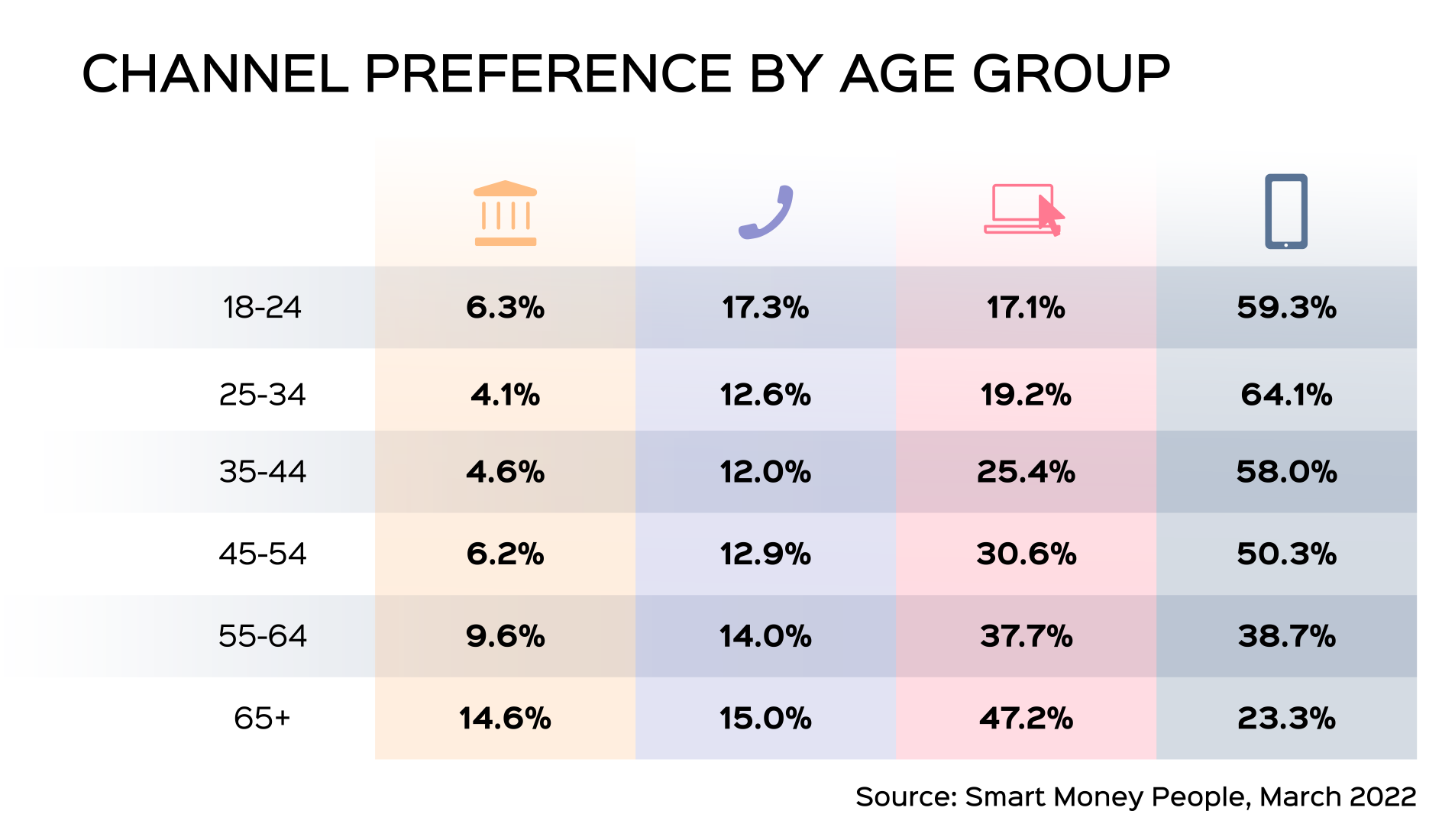 CEO of Smart Money People, Jacqueline Dewey commented on our findings: "According to our reviewers, almost 80% of consumers are now choosing to use an app or other online banking methods to contact their bank and that people's preference to visit a branch has dropped for a fourth consecutive year to an all-time low of 7%. This reflects a variety of interrelated factors in changing banking habits.
"Our data shows that younger generations are not wedded to traditional banking means such as branches, and the ease of being able to contact their bank 24/7 via an app reflects their behaviour in other areas of their life where contact takes place within apps.
"Post pandemic we know the older generation has needed to adopt technology more for day-to-day living but may have also felt compelled to use technology more as the choice to visit a branch has been taken out of their hands in many cases. While it may be an unpopular move among some, our data shows decisions by many of the high street banks to close branches or reduce opening hours appears to be in-line with customer banking behaviour, whether that is out of necessity or choice."
Our report follows from research released by The Sunday Telegraph last week which found more than 700 bank branches have closed in the UK in the last year. They found some rural banks are only open for four hours a week which means some people have had to make the shift from offline services to online banking rather than going into a branch and having their money dealt with. This trend could be a hangover from COVID-19, with many having to adapt to using more online service to replace their usual banking services.
Some other leading financial commentators have accused banks of leaving the elderly and more technically unaware to the behest of dwindling banking times and offline services. Sir Vincent Cable wrote in The Sunday Telegraph recently that he feels that some banks are "tiptoeing out of the backdoor," leaving those who are less technically confident to the mercy of sporadic opening times.
However, according to our data, the struggle of 'people vs. technology' is far from finished, with an increase in consumers preferring to speak with their bank over the phone, rising from 11.5% in 2018 to 13.7% in 2021. With 17.3% of Gen-Xers (18-24) opting for the phone, it is the second most popular alternative.
While there is still much to debate on whether online or offline banking is the way forward, there is no denying that consumer trends highlight the preference of ease and availability over going into branch and talking to someone. Could this just be a generational trend, or have the aftereffects of Covid-19 changed the way we consume services now?