Your bank and insurance reviews have been rolling in over the last few weeks…
…see below the 5 most recommended Financial Services companies in the UK based on your customer reviews: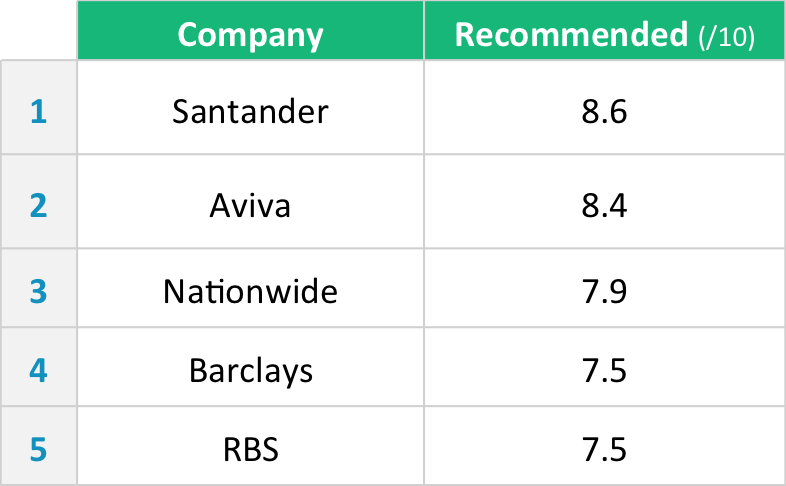 What makes these 5 companies the most recommended? Read some real customer reviews below:
"The online account management is easy to navigate and has a good layout. All the features are easy to use." Carl, Santander 123 Current Account review
I think this is the best current account in the UK at the moment as is providing a 3% return on savings plus giving 1%-3% on my usual bills such as phone to gas/ electric. Quite impressed! Craig, Santander 123 Current Account review
"Getting a good price is always important to me, and so is the service. I've found that the telephone service at Aviva is second to none which makes a change from some of the clowns I've been with in the past!" FunkyRob, Aviva Car Insurance
"I've been tempted by a few glitzy current accounts offering some star perks, but have always ended up staying with this one. Why? Not 100% sure, but I think it comes down with Nationwide offering a good service and a bit nice touches such as free travel insurance." Lizzie, Nationwide FlexAccount
"I've had an account with Barclays for a while and find them to be friendly and efficient. I like that I could personalise my card with a picture of my kids (I find it makes me use it more as well!) I also like how the online benefits are getting better - the way to go. Pretty impressive for a free account." Jen, Barclays Bank Account
"This is a basic account, but I enjoy going into my local branch and talking to the staff face-to-face. Makes all the difference and keeps me happy." Carmen, RBS Basic Current Account
Method:
To keep the rankings fair, only brands with 5 or more bank or insurance reviews have been included. We'll increase this minimum number as we grow.
Our Mission:
Our mission is to increase trust and transparency in the Financial Services industry; to help make it work better for everybody. You can help us by leaving a review now!