Some insurers want to charge you up to £35 to change your name. Others want to charge you up to £75 to cancel a policy within the 14-day cooling-off period.
We've been listening to your car insurance reviews, and have decided to carry out an extensive look into the charges that 43 UK car insurance providers can ask you to cough-up for. Find out how your insurers' charges compare below, and join our campaign today.
Most insurers charge administration fees for a range of things. According to Esure, "most insurers charge administration fees and part of the reason for this is that if they didn't, the costs associated with people who make frequent adjustments would be borne by all policyholders." They add that they regularly review their charges to ensure that they are in line with market.
But insurers also have an obligation to treat their customers fairly. We want to find out what you think about these charges. Do they help to make you feel fairly treated?
Our Car Insurance Charges Table shows that there's a lot variation. For example, Churchill charges nothing to change your name on a policy, or to cancel a policy within the cooling-off period, and makes it easy to find this out. Other car insurers have a way to go.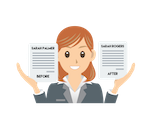 The average cost of changing your name: £14.70 (it can range from £0 to £35).
We chose to look at change of name, as it is a simple change that doesn't have an impact on the underwriting of your car insurance policy. It's also a bit of a grey area, with 37% of insurers now offering a free way to make this change.
The average cost of cancelling your policy (within the 14 day cooling-off period): £19.7 (it range from £0 to £75).
We chose to look at the cancellation fee within the 14-day cooling-off period as we've found that up to 60% of consumers don't appreciate that an insurer has the legal right to charge a fee within the cooling off period. A number of our reviewers have also had difficulty in finalising insurance policies (often sold via comparison sites), which have ultimately triggered cancellation charges. This Brightside car insurance review is typical:

Write a review and tell us about your experience with your insurer
Retweet one of our #CheekyCharges tweets to show your support
Like and share this Facebook post to help spread the word
When researching this article, we noticed that it wasn't as easy to find the information we were looking for across all insurers, which led us to create a transparency rating. Here's how we've determined our rating:
A: Information re administration fees was displayed clearly, and can be viewed on the webpage of an insurers website
B: Information is readily available within a pdf document that can be downloaded from an insurers website
C: Information was not clearly discerned from an insurers website. A call or email was required to obtain the required information
1. Just Say No!
While insurers have the right to charge administration fees, we've found that a number of consumers are saying no to high administration fees. Join them by saying no, and refusing to pay for simple changes like changing your name. Still unhappy? Leave a complaint! You can do this direct on Smart Money People, like on our Direct Line complaints page.
2. Cheapest isn't always best!
UK consumers are the most active users of comparison sites anywhere in the world. And while comparison sites can help you to find a competitive car insurance quote, they've driven some unfriendly behaviour. For example, in order to offer you a cheap quote, some insurers have stripped away a lot of their customer service functions. If you then do need to contact them, you'll probably end up paying for it!
3. What extras do you require?
Thinking about any extras you require from your insurer may help you to better understand the true cost of buying a car insurance policy. For many of us, car insurance policy documents via an email will suffice. But, if you'd like a paper copy of your policy, you could be charged £15 by some insurers. RAC would charge you £3.