Our reviews show that overwhelmingly, online banking is their preferred method for consumers to contact their bank, with 83% opting to use an app or website vs. 17% who prefer to use the telephone or visit in branch. But it's not just our community, a study by CACI Consultancy predicts that by 2020, app usage will be almost 10x that of branch visits.
With that in mind, we've looked at banking apps from some of the UK's biggest banks (and a building society), and rated them in terms of features and functionality, performance, and ease of use.
We'll be looking at current account functionality only - so if you're looking for a little more innovation in your app, check out our personal finance apps blogs ( part one, and two), or take a look at our British Bank Awards 2017 "Innovation of the Year" shortlist. We'll have part two for you in the coming weeks, featuring banks like Tesco Bank, and Metro Bank, among others.
Lloyds, Halifax, Bank of Scotland, TSB
Current (average) rating on the App Store: 4.5/5
Essentially a single app with a different skins, these apps offers much of the basic functionality you'd expect from a modern app, as well as some nice extras. Cashback offers are available to activate in the apps - just spend at one of the listed and regularly updating retailers, and cashback is added to your account. The apps also support Apple Pay, and TouchID, two of Apple's flagship technologies which are really a "must have" for large banks in 2017. They're a solid, if not unspectacular or groundbreaking effort.
What we loved: Cashback offers within the app. TouchID support. Generally a good level of functionality and nothing is too many taps away.
Our community says: "The app just works; it is reliable and relatively easy to navigate. Adding new payees is quite straightforward too." (Tom C)
Could be improved: The app is not as responsive as some of the competitors, and can be slow to refresh screens. Also, why do Bank of Scotland customers get Apple Watch support but Lloyds, TSB & Halifax don't?
Nationwide
Current rating on the App Store: 2.5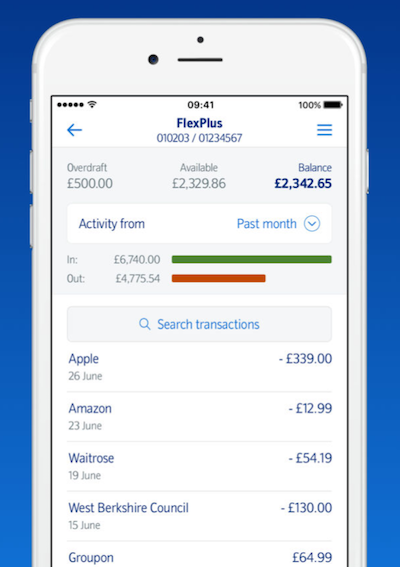 As a building society (albeit, by far the largest of the UK's 44 building societies), Nationwide's digital efforts must be applauded. Their app does a lot of what of the bigger banks do, though customers lament the lack of some basic functionality such as adding a new payee.
A degree of budgeting assistance is also very welcome - the app has a basic chart to show transactions in and out over a specified time period, and another cool feature is "Impulse Saver" which allows super-simple transfer of a pre-determined amount to a savings account in just a few taps. It's a great effort from Nationwide, and one which other building societies must surely have in mind when considering their own digital offerings.
What we loved: It's got all the modern bells and whistles. Support for both TouchID and an Apple Watch companion app is certainly a building society first. It's a simple but smart looking app, and functionality like Quick Balance is fairly cutting edge, only making its way to huge banks like HSBC in the last year.
Our community says: "The latest Nationwide iPhone app has been developed well - handy money-in/money-out feature to show how much has went in and out of my account; cool fingerprint ID for security; and even easier to manage my various accounts! Keep it up Nationwide!" (Robert B)
Could be improved: Can't add payees directly on the app, can't see pending transactions.
Santander
Current rating on the App Store: 3/5
Servicing their ever-popular 123 current account, you'd expect Santander's offering to be market-leading, but customers don't seem too enamoured with it.
For starters, it doesn't look very 2017 - it looks a little more like a semi-interactive spreadsheet than one of the UK's leading banks. And while customers do find it easy to manage multiple accounts from within the app, they also bemoan lack of stability - a big no-no. Another common missing functionality, though it's certainly not limited to Santander, is the ability to add a new payee via the app.
What we loved: everything you can do on the Santander website, you can do within the app. That makes the online process that little bit more seamless.
Our community says: "I absolutely love Santander and have a number of different product with them but the account I use the most is the current 123 account. However access to it via the app it easy but could be a lot smarter. For instance, there isn't a running total for the account on the app so it's impossible to see what impact a withdrawal has had on your overall sum. This is frustrating as I've not had this issue with my Halifax app or the NatWest one. I'm sure it would be a simple fix to do for the app just to make it a bit more fit for purpose." (Hollie G)
Could be improved: No Apple Watch or TouchID support means it lags behind some of its competitors, and it could definitely use a fresh coat of paint. Not covered in this list, but new app-based banks such as Atom Bank have led the way in delivering an exciting-looking app.
First Direct
Current rating on the App Store: 1.5/5
First Direct pride themselves on exceptional customer service, yet their customers aren't fans of their digital offering. You get the impression that perhaps First Direct prefer to speak to customers directly, and the app exists as a token offering. Some functionality within the app even directs customers to call the bank - not the seamless digital experience consumers have come to expect in 2017.
Looking and functioning very much like a web app, customers frequently comment the fact that although TouchID has been added, the app asks for passwords to authorise more complex functionality such as making payments, which seems redundant, and frankly annoying.
What we loved: a dedicated, matching iPad app is something not all banks are offering.
Our community says: "I needed to ring them to get their phone app to work they were so helpful. I was in work so didn't have my bank account card to hand, they rang me back on my mobile which was registered to the account and sorted it all out. The call was answered quickly with minimal fuss, my old bank I'd be on the phone for ages pressing various numbers to get to the right department." (Lorraine T)
Could be improved: First Direct need to work on the customer journey so that from opening an account to checking a current account balance on the go is as slick and friendly as calling one of their call centres. Some way to go.
HSBC
Current rating on the App Store: 2/5
As per First Direct, HSBC's personal banking app is more akin to a web-app within a wrapper as opposed to a dedicated mobile experience. Customers mention "having to accept Ts & Cs multiple times" as changes are made to the app, as well as having to generate temporary security codes in order to access certain functionality. In general - and a common theme among the banks featured in this list - just not as slick as it could be.
What we loved: Fast Balance, the ability to access and respond to secure messages within the app. Also, easy access to cashback and other offers directly. Paym, Barclays payment solution, is a decent way to transfer money using only a mobile number as opposed to entering sort codes and account numbers.
Our community says: "The app is updated quite often and its very easy to use. Since downloading the app a couple of years ago, I've rarely logged in to my account from my PC as I can do all I need from the app. Would recommend." (Anwar)
Could be improved: No Apple Watch support, and those temporary codes are bothersome. whichever way you look at it.
RBS / NatWest
Current rating on the App Store: 5/5
We've saved the best until last, as NatWest's offering is probably the most well-rounded, customer-focussed, and popular app of this list. With swathes of functionality, a great user experience, and great customer reviews, it seems as though they're one of the few UK banks treating the app experience as a priority. They're so proud of it, you can even try a demo version on their site before taking the plunge. Bravo.
Paym, TouchID, Apple Pay, and even a feature-rich Apple watch app make this the benchmark high street current account app.
What we loved: it's comprehensive. Everything works as you'd expect it to, and it's easy to use. It's as close to having a complete current account functionality on your phone as any of the high street banks have gotten.
Our community says: "I have been banking with NatWest since I was born and have moved from telephone and branch banking to mobile phone app banking. I find the service to be excellent. I can access my account 24/7, view my children savings accounts, my savings accounts, my credit card and my business account all in the same place. Brilliant...." (Lisa P)
Could be improved: the app still requires use of a card reader to make some changes to the account (though this functionality is something many other banks don't offer at all).
In 2017, offering a great banking app - one which is easy to use and packed with rich features is more important than ever in attracting and retaining customers in a competitive space.
Watch out for part two of this piece, where we'll be profiling ten more apps from popular current account providers. In the meantime, if you love your bank's app, or think it could definitely be improved, let us know by leaving a review of your own and help others choose the best banking apps!