We've looked at the latest UK mortgage reviews from our Smart Money People to bring you our candidates for the title Best Mortgages on the market in 2015.
We know that finding the best mortgage deal takes a good deal of time and some thorough research. For many prospective homeowners, buying a home is often the largest purchase you'll ever make, and many first time buyers can find that the process can be pretty daunting.
So, here's the top 5 mortgage providers on the market today – as decided by our Smart Money People reviews:
To create this list, we have used the 'overall rating' rating from our reviews. This gives us a good balanced understanding of how each mortgage stacks up.
Tracker, fixed and everything in between!
Getting to grips with the vocabulary around mortgages can be tricky as there are many different types to choose from. But, without understanding the basics, it becomes really hard to find the best mortgage product for you. Our favourite jargon buster comes courtesy of HSBC!
How does our top 5 list change when comparing the 'overall rating' with 'value for money' and 'customer service'?
As many of our reviewers can tell you, the cheapest mortgage on offer isn't always the best mortgage for you. Our reviews also include ratings for 'value for money' and 'customer service.' Take a look below to see how our best mortgage providers stack up based on these different factors: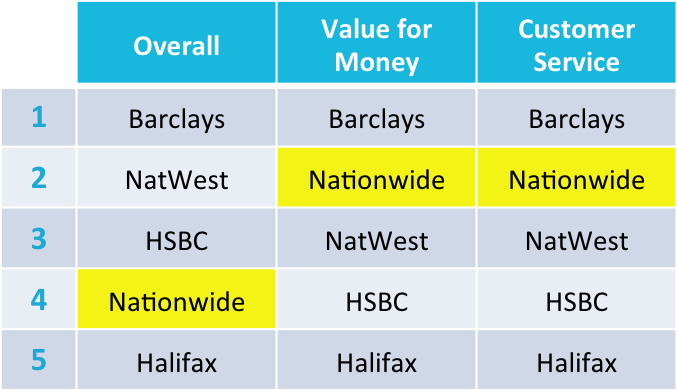 Nationwide are the only mortgage provider in our list to have higher 'value for money' and 'customer service' scores when compared to their 'overall' rating. In fact when ranked with these additional ratings, Nationwide jump in our league table, proving that doing some good research and really looking into each provider can help you to find the best mortgage for you.
And the wooden spoon award goes to…
Although the 123 current account has one of the highest overall satisfaction ratings (a whopping 4.5/5), the Santander mortgage offering doesn't have many happy customers shouting about it…in fact, with an overall rating of 1.3/5 it comes to the bottom of our list. Take a look at Rona's review:
What else do our mortgage reviews tell us?
Some of the best detail comes from the description our reviewers write. This helpful summary of what our mortgage reviewers are saying can give you a helpful reminder of what to look out for when looking for a mortgage:
82% mentioned customer service
55% talked about rate
Welcome hampers are all the range…
Some of our favourites!
Some of our mortgage reviews make us laugh…but sometimes they can even make us cry! These are a few of our favourites. Remember, you can also add yours here!
This HSBC mortgage review by Sean goes to show how important making good research can be. Choosing the best mortgage that fits you is possible with a bit of looking around:
A special mention must go out to the Coventry Building Society for their "very helpful and informative" approach:
Although mortgages can be a complicated area, Fiona's Nationwide review goes to show that at times it is possible to have a "stress free" experience:
How does your mortgage provider stack up? With a rush towards fixed rate mortgages at the minute, take a look at the full list of mortgage providers here.