In May, former Chancellor Rishi Sunak announced a new package of support worth £37 billion to help the country cope with the cost of living. The package will see millions of the most vulnerable households receive at least £1,200 of support in total in 2022. Here is a guide to what support packages are available to help ease the financial burden as wages struggle to keep up with soaring inflation.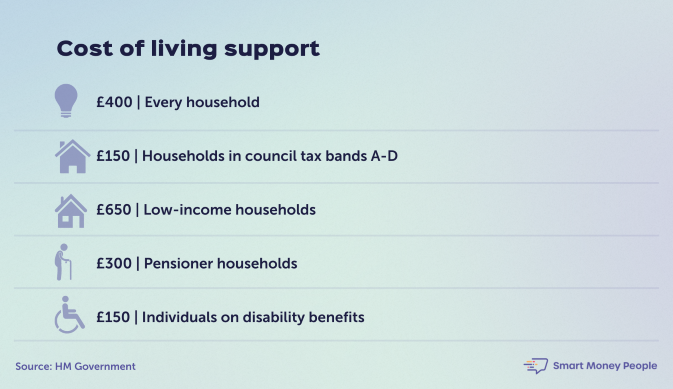 Every household in Great Britain will receive £400 off their electricity bill this autumn
The government recognises that many households need support to help deal with the spike in energy bills this autumn so they have created an Energy Bills Support Scheme. Through this scheme, every household in Great Britain will receive a £400 grant which will appear as a credit from energy suppliers from October 2022 onwards. The grant won't need to be repaid and it will be automatically added to your energy account over 6 months. If you have a prepayment meter, the £400 will be added to your meter or you'll be given vouchers. The government will confirm how you'll get the money near the time of payment.
Households in council tax bands A-D will receive a £150 Council Tax Rebate
Households in council tax bands A-D are eligible to receive a non-repayable £150 council tax rebate to help with the rising cost of bills. Most local councils have started making payments already so if you live in an eligible property and you pay your council tax by direct debit, you may have already received your rebate or are due to be paid. Your local council will generally make the payment directly to your bank account, so you do not need to do anything unless your council requests further details from you.
If you do not pay your council tax by direct debit and you live in an eligible property, your local council will contact you with details on how to claim your rebate.
Not sure which council tax band your property is in? You can check by visiting: https://www.gov.uk/council-tax-bands
Not sure who your local council is? You can check by visiting: https://www.gov.uk/find-local-council
Low-income households will receive £650
Households on benefits will receive a one-off payment of £650. The sum will be applied to those on Universal Credit, Tax Credits, Pension Credit, and Legacy Benefits. Those eligible won't need to apply but will receive two direct payments from the Department of Work and Pensions straight to their bank accounts. The first instalment of £326 will automatically be paid to those that are eligible directly through their bank accounts by the end of July 2022. The second instalment of £324 will follow from autumn 2022.
This amount is on top of the £400 that all households in Great Britain will receive to help with energy bills and the £150 council tax rebate for properties in Council Tax bands A-D, meaning the lowest-income households will receive at least £1,200 in support this year.
Pensioner households will receive £300
All pensioner households will receive an extra one-off payment of £300 to help them cover rising energy costs.
You should start receiving Winter Fuel Payment automatically once you reach the State Pension age, which is 66 and over. If you don't, you can find out how to apply for the Winter Fuel Payment on GOV.UK.
If you're over State Pension age and already get Winter Fuel Payments, you'll automatically get an extra £300 with your usual Winter Fuel Payment. Most payments will be made automatically in November or December. You should be paid by 13 January 2023. If you do not get your payment, contact the Winter Fuel Payment Centre. Contact details are available on GOV.UK.
Individuals on disability benefits will receive £150
Individuals on disability benefits will receive £150 in September 2022. You'll automatically get this payment if you get any of the following benefits:
Disability Living Allowance
Personal Independence Payment
Attendance Allowance
Armed Forces Independence Payment
Constant Attendance Allowance
War Pension Mobility Supplement
Check what help is available in your local area
It's worth checking what help is available in your local area. Your local council might help you pay for things like your energy, water bills and essential items. This help is known as 'Welfare Assistance' or the 'Household Support Fund'. Each council runs their own scheme so the type of support provided will differ from council to council.
If you currently receive benefits, they won't be affected if you start getting money from Welfare Assistance or the Household Support Fund scheme.
Not sure who your local council is? You can check by visiting: https://www.gov.uk/find-local-council
What support is available if you're struggling to afford food shopping
Food Banks
Many families continue to struggle to make ends meet. If you can't afford to buy food and you require immediate help, one of the quickest ways to avoid going hungry is to visit a food bank. You will need to get a referral to use most food banks. Each food bank works with different frontline professionals, like doctors, health visitors, social workers, and Citizens Advice. These professionals will be able to refer you to a local food bank and give you a food bank voucher if they think you need emergency food. Your local authority might also be able to give you a referral and, in some cases, give you vouchers for supermarkets, clothes or travel.
Not sure who your local council is? You can check by clicking here.
Once you have been given a voucher, you can exchange this for a minimum of three days' at a food bank centre near you. Find your closest food bank by clicking here.
Where kids eat free in the UK
Many councils across the UK have created their own meal schemes during the summer holidays to try and ease the financial strain on families this year. Many local authorities are offering low-income families meal vouchers, money or packed lunches. You can find out more about what support is available in your area through your local council's website.
Supermarkets and restaurants are also offering free kids' meals this summer as the cost of living crisis continues to stretch budgets for UK households.
Here is a list of places where kids can eat for FREE or for as little as £1 during the school holidays this summer:
Asda Cafe
Children aged 16 and under can access a hot or cold meal for just £1 at Asda Cafés in England and Wales. The Kids Eat for £1 initiative is available all day, every day from 25th July until 4th September, as long as the Café is open and dependent on the store, a hot meal or cold meal, or both, will be on offer.
Baby food is also available as part of the initiative, with little ones able to enjoy a free pouch of Ella's Kitchen baby food in their local Asda Café.
There is no minimum spend, so there is no need for adults to purchase a meal in order to get the offer.
IKEA
From 12th July until 3rd September, all kids can get one meal from the IKEA children's menu for just 95p, or a combination meal including jelly, a drink, and fruit for £1.50. Unfortunately, neither offer is available at the store in Aberdeen, and the combo isn't available in Hammersmith.
Morrisons
Children aged 16 and under can get one free meal with every adult meal over £4.99. This deal excludes all café specials.
Dunelm
Over the summer, kids can get a 'mini main', two snacks and a drink for free, as long as an accompanying adult spends £4 in Dunelm's in-store Pausa Cafes.
Note: We recommend checking the website for the store or restaurant for full terms and conditions before you go to make sure the deal is available in your area and to avoid disappointment.
More support is available…
If you're dealing with debt or you're overwhelmed by money worries, it's never too late to ask for help. There are plenty of free resources available that can help you get back on track. Read our blog to discover what support and help is available if you need it.
The contents of this blog don't constitute advice. If you have money worries and you're struggling with your mental health, please visit some of the resources listed here. For 24-hour support, you can also call Samaritans on 116 123.