Over the last few years, the culture of financial firms has become a key focus for regulators, both conduct and prudential, in their strategic response to the global financial crisis and a string of misconduct events.
Culture is typically defined as 'the typical behaviours that characterise a firm' and since the start of 2019, Smart Money People has been measuring the culture of financial firms, as perceived by customers. Some 19k customers have shared feedback about the culture of the financial firms they deal with in the first six months of 2019.
Today, we're able to share some of this research with you via our Culture in Finance H1 2019 report. Below our some of our key findings and a summary version of our report is also available to download below.
Culture in Finance research findings:
Customers view the culture of new digital banks like Monzo and Starling Bank to be healthier and very different to large banks
Large banks like HSBC and Barclays are viewed as more reliable and secure than digital banks
Customers leave the lowest scores when asked to comment on whether they feel that their 'personal information is safe with this company', particularly older customers
Younger customers have the most positive view of the culture of the financial firms they deal with (74%). They comment most about the customer centricity, reliability and security and innovation of financial firms
Older customers are least positive about the culture of their financial services providers (67%). They comment most about fairness and understanding, customer centricity and the professionalism of financial firms
The type of products and services a firm offers, as well as its distribution channels, has a strong impact on the culture of a firm as perceived by customers
Measuring and assessing culture can help firms to better understand their conduct risk
Our research demonstrates that measuring and assessing culture, as perceived by customers can deliver an important early warning system that helps financial firms to become more proactive around measuring and assessing their conduct risk.
While it's clear that innovation doesn't always lead to better customer outcomes, for a growing proportion of younger customers, it's central to how they think about the financial firms they deal with. Our research also suggests that older customers increasingly feel left behind as branch closures start to bite and new financial firms focus on younger millennial customers, a trend that's likely to continue.
Culture in Finance H1 2019 summary report
Our summary report is available by clicking the report cover below, or via this link.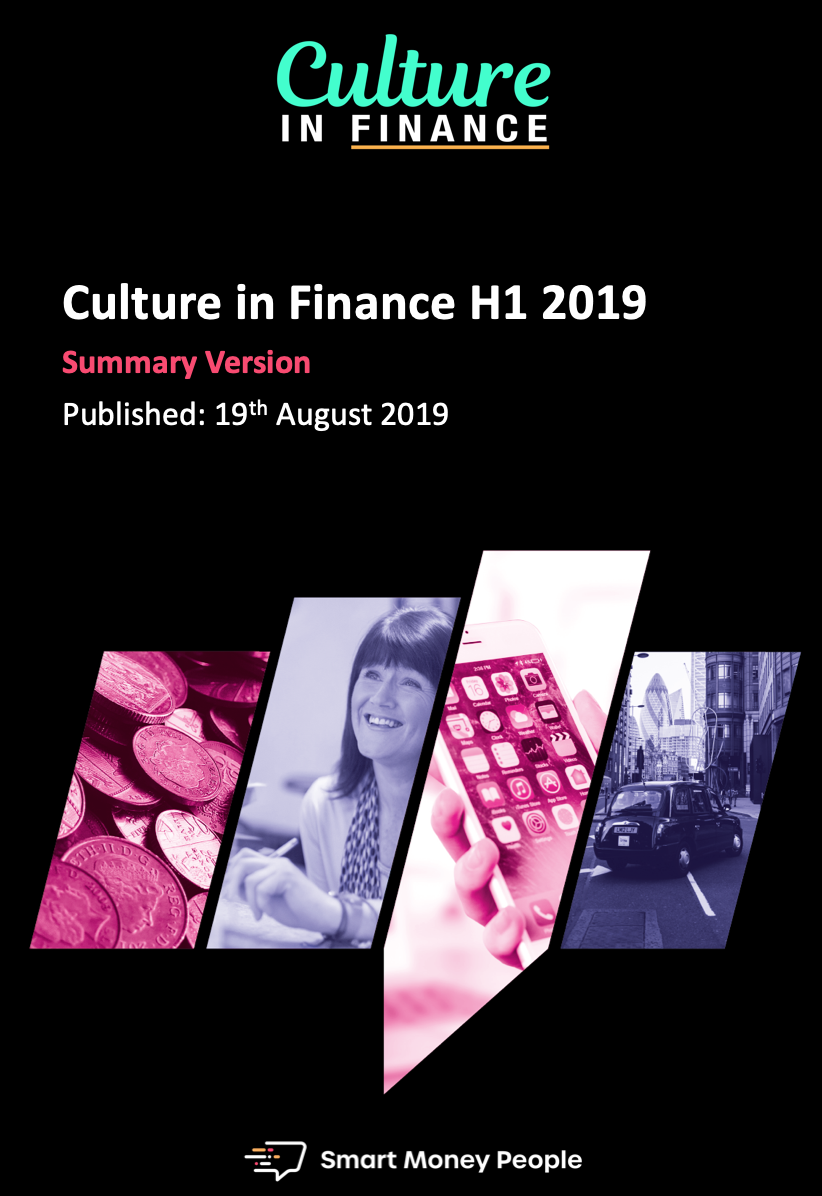 Culture in Finance H1 2019 full report
Our full report is available for purchase and provides insight around:
The culture of digital banks, banking incumbents, FinTech, insurance and consumer credit firms
How attitudes to culture differ by customer age, channel preference and region
How attitudes to culture differ by product type
The impact of innovation
Our Healthy Culture Index, which includes in depth data on 33 firms
To discuss the Culture in Finance report, or our work around customer feedback and analytics more generally, please contact us: [email protected]