The common belief is that customers don't really like their banks, but have to make do with them. Your bank reviews are telling us something quite different. In fact, as our bank recommendation tracker shows, 38% of you love your bank enough to actively recommend them to your friends or family.
The overall bank recommendation rating currently stands at 7.35 / 10, which is pretty good.
Your key bank review stats
Overall rating: 3.68 / 5
Value for money: 3.61 / 5
Customer Service: 3.75 / 5
Currently, one of our top rated banks is the Co-operative bank – see below their current account stats:
Overall rating: 4.5 / 5
Customer Service: 5 / 5
Overall recommendation: 9.6 / 10
http://smartmoneypeople.com/brand/cooperativebank-reviews/product/current-account
Switchers
Interestingly enough, we've had quite a few bank account 'switchers' write reviews with us. Typically, customers are tempted by switching incentives, while others have been pushed away from their bank by poor levels of customer service.
Switchers leaving a review on SmartMoneyPeople seem to really love their new bank, providing an overall rating of 4.7 / 5 and a net promoter score of 9.4 / 10.
See below an example from one happy reviewer! http://smartmoneypeople.com/brand/HSBC-reviews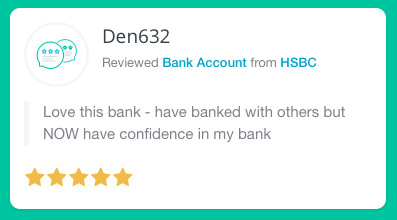 Our mission:
Our mission is to use the power of customer reviews to increase trust and transparency in the Financial Services industry; to help make it work better for everybody.
Keep your reviews coming in…we like reading them! Why not write one now?