Last updated: 29th January 2019
Nearly three quarters (71%) of UK homebuyers use a mortgage broker to track down and secure the best deal - a significant increase on years gone by.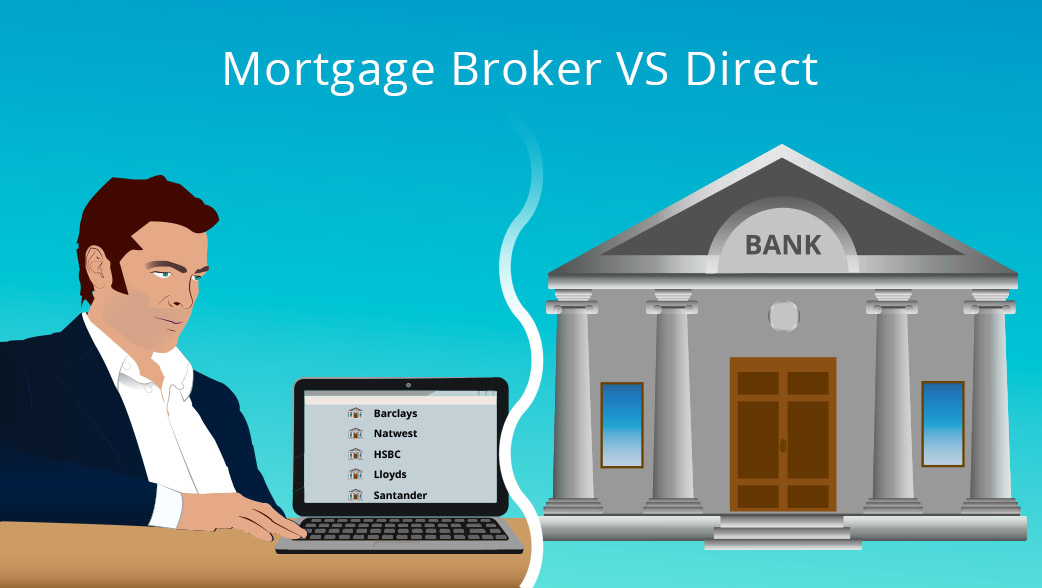 In the past it was relatively common to go directly to a lender, or shop around for the best rates. But as the market has increased in complexity, and banks and building societies have tightened their lending criteria, a growing number of borrowers have turned to the experts for help. But are brokers really the best option? Here we sum up the pros and cons of both:
Consulting a Mortgage Broker
Pros
Save time: Comparing mortgage deals can be tricky and time-consuming for the uninitiated. Unless you're already savvy with the world of mortgages, ploughing through sheets of interest rates, fees and other figures can get pretty confusing – not to mention, boring. That's where a good mortgage broker's experience in the market can be invaluable. Their industry knowledge and understanding means they can assess your needs and point you towards the best deals to look for. Saving you precious time and effort.
Entire market comparison: Direct lenders definitely won't tell you about deals offered by their competitors - for obvious reasons. In contrast, a mortgage broker will scour the whole mortgage market and present you with a comparison of the deals they think are best for you. Plus, they'll usually know about smaller specialist lenders and broker-only deals, that you might not hear about otherwise.
Impartiality: If a mortgage broker is independent, they are legally required to review a range of lenders on your behalf and have no vested interest in getting you to take out any particular deal. That means they won't try to sell you a mortgage that's not quite right and if you don't like the options or lenders they present to you, they'll try to find another one. Direct lenders, on the other hand, will push hard for you to buy their product.
They'll help you get approved: Brokers don't just know what's on offer across the market, they also bring a depth of understanding regarding the criteria set by each lender. So, if you've previously been denied a mortgage or have specialist needs, due to self-employment or other aspects of your situation, they can help ensure you're not disappointed.
Cons
Can be more expensive: Mortgage brokers usually charge a fee for their services, which can make it seem like you're forking out more than you would for a direct deal - at least initially. However, it's important to weigh that up against the fact that a broker could save you thousands of pounds in the long-term, so think carefully before dismissing a broker because of the fee.
No direct-only deals: Some banks and lenders offer direct-only deals as a method of securing your custom, some of which can work out excellent value. However, these deals won't be on offer to you, if you buy through a broker.
Who to trust? Unfortunately, not all mortgage brokers were created equal, in terms of fees, independence and quality. So, even when choosing a broker, some shopping around is essential. A good strategy it to ask for recommendations from friends and family, then once you find a good one, you can keep going back to them again and again.
Mojo Mortgages CEO and Co-founder Richard Hayes said: "When you go direct to a lender, you're only going to be recommended deals from that lender's own range of mortgage products. Whole-of-market mortgage brokers like Mojo compare mortgages from all the major UK lenders to find the best deal for you. "
"However, not all brokers are created equal – some charge a fee, others aren't whole-of-market and the majority will ask you to visit them in person for an appointment during office hours. We saw that this doesn't work for many people and created an alternative."
Going Direct
Pros
No fees: Probably the biggest advantage of going direct is that you save the fees charged by brokers. If your needs and situation are relatively straightforward then this could mean a decent saving on what is already an extremely expensive purchase.
You can speak directly with the lender: Some borrowers still feel more comfortable going to their bank or building society to communicate face-to-face with the lender. However, with fewer local bank branches, this isn't as easy as it used to be.
Simplicity: If you do apply for a mortgage through your own bank, you have the advantage that they already have a good knowledge of and access to your financial information. This can mean there is less paperwork involved, making for a simpler process.
Cons
Time-consuming: If you want to find the best deal going direct, you have to be prepared to put a fair bit of time and effort into shopping around. Unless you have an excellent head for figures, familiarity with the mortgage market, or have lots of time on your hands, the work of hunting down and comparing mortgage lenders could be a step too far for many.
Few preferential deals: It's a common misconception that your own bank will offer you preferential mortgage deals, however this is not usually the case in reality. While dealing directly with lenders can open up some deals, these are few and far between. Plus, you'll still have to go through the same checks and negotiations as everyone else – even with your own bank.
All in all, if you have the knowledge, time, and determination to compare the market yourself, there are some advantages to going direct. However, for most of us, a good mortgage broker will help lighten the load and increase your chances of securing the best mortgage for your needs. The key is finding a broker you can trust, and ensuring the fees are fair before you part with your hard-earned cash.
Have you previously applied for a mortgage? Share your feedback between November 5th and February 10th and help crown the 'Best Mortgage Provider', 'Best Specialist Mortgage Provider' and 'Best Mortgage Broker' in the industry at the British Bank Awards 2019 - you could also win £1,000 by doing so! Alternatively, share your mortgage experience today and help others like you find the right provider.