The first in-depth survey of business banking in the North East by the North East Chamber of Commerce (NECC) and Smart Money People has revealed that businesses are moderately satisfied with their banks, but high account charges and slow account opening processes are a concern.
Having taken the pulse of 209 North East businesses, we've found that although business banking received a 71% overall satisfaction rating, just 19% of all businesses reported receiving a good or excellent level of customer service, demonstrating there is still room for improvement.
Mike Fotis, founder of Smart Money People said, "Although expectations around business banking remain low, the results of our business banking pulse show that there are four clear areas where banks can support the region's businesses better. These four areas include more/better relationship management, better access of capital, better access to business planning/financial advice and better interest rates for positive balances."
The results showed that 12% of businesses now use two or more financial providers, a sign that North East businesses are taking advantage of a range of niche, financial firms for items such as foreign exchange or working capital. Surprisingly, only 7% of all respondents cited better access to capital as an improvement they would like to see.
A total of 4% of North East businesses stated that they were thinking of switching providers, although 21% mentioned they used a local branch frequently.
Business banking looks set up become a lot more competitive over the next few years, and you can find out how your bank compares by looking at our best business banking table.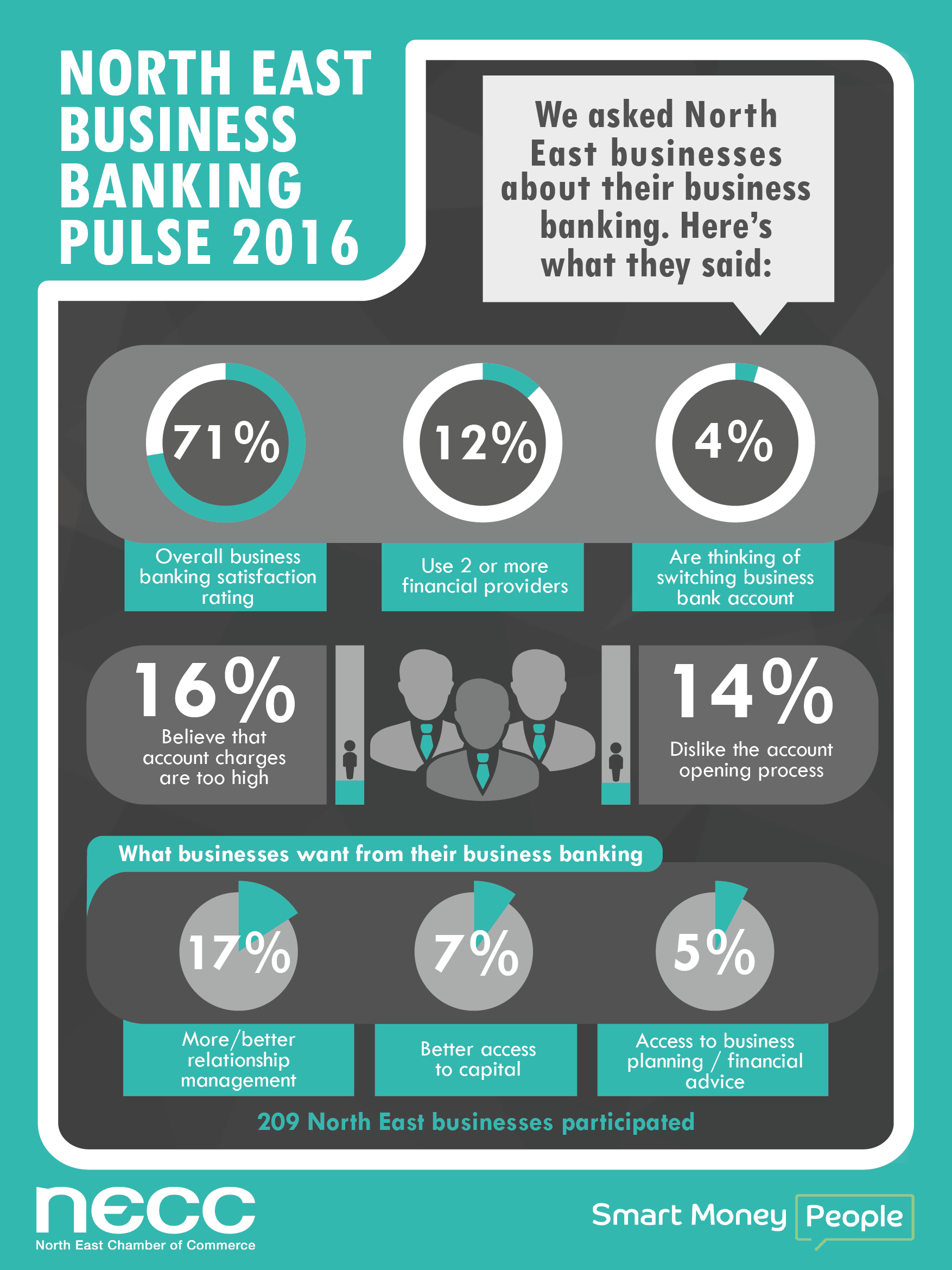 Summary of Findings:
Business banking has an overall satisfaction rating of 71%
High account charges (particularly around foreign exchange) and a long account opening process were the two biggest sources of frustration, commented on by 30% of all respondents
19% of all respondents felt that they received good/excellent customer service
12% of all businesses now use two or more financial providers
17% of all respondents want more/better relationship management
Better access to capital (overdrafts/loans) was cited by just 7% of businesses as an area for improvement
5% of all respondents would like to see better access to business planning / financial advice
3% of all respondents told us that they would like better interest rates for positive balances
4% of all businesses mentioned that they were thinking of switching