Although a recent Which? survey highlighted that 53% of households haven't ever checked their credit score, at Smart Money People, our reviews regularly highlight how important understanding and managing your credit score really is.
In April 2016, we began collecting reviews for credit report providers. We wanted to understand what customers really think about their credit report providers, be they free services like Noddle, or ClearScore, or paid options like Experian and Equifax. Our community recognises the value of credit reporting services - one reviewer, James, said that his Noddle account was "probably the biggest influence on my spending and awareness of financial status".
Here are 4 key stats that summarise what we found:
87% Overall customer satisfaction
Not all financial products are built equally when it comes to customer satisfaction, but when it comes to credit reports, customers are on the whole, a pretty happy bunch. This compares to an overall rating of 75% for credit cards, for example.
73% Understand how a credit report works
Although this figure may appear high, it's actually among the lowest scores we've recorded for any financial product on our site. Credit reporting can be a complex subject which the reporting agencies themselves go to great lengths to try to explain, so this is statistic comes as no surprise.
97% felt that they were fairly treated by credit reporting companies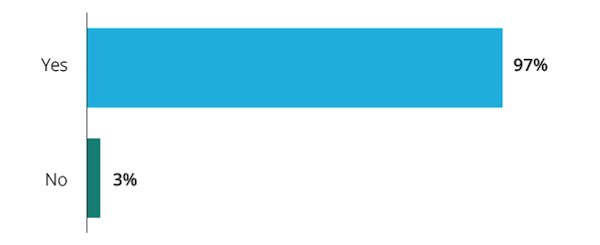 We ask our reviewers how fairly treated they felt. Here, credit report providers topped the table. Across all consumer credit providers, 97% felt that they had been treated fairly.
94% Prefer online interactions with their banks
We asked credit report reviewers how they would prefer to contact their financial providers. While via a mobile app took home the most preferred channel, 37% told us that they preferred desktops, 3% love calling their providers, with just 3% preferring walking into a local branch. A useful and easy to use and review app is key to enticing customers to check-in with their credit score regularly.
While there's still more work to be done when it comes to building awareness of free credit providers, it's clear that more and more consumers are clocking on to the existence of free credit report providers. One reviewer told us that she had found ClearScore, "Free and better than the rest! I love ClearScore and the new features they're adding; I feel much more in control of my finances."
With an overall satisfaction rating of 95.2%, ClearScore took home ' Best Credit Report Provider' as well as our 'Consumer Credit Champion' and 'Treating Customers Fairly' awards in this year's Consumer Credit Awards.
How do you rate your credit report? Take a look at our credit report reviews from the following companies, or write a quick review of your own credit report on Smart Money People:
MoneySavingExpert Credit Club reviews