Budget apps are getting bigger and better all the time, but at the start there was Money Dashboard, helping users organise their finances by setting budgets and analysing their spending.
It's still going strong today, winning the 2018 British Bank Award for "Personal Finance App of the Year", but nowadays it has its fair share of competitors.
One of the most popular alternatives to Money Dashboard is Yolt. Here's how they compare.
Security
As you'd hope and expect, both apps take the safety of your data extremely seriously. Both offer "bank level security", and both are registered with the FCA, which means they're held to stringent regulatory standards when it comes to data security.
Both apps could arguably be improved by allowing multi-factor authentication, which would add an extra layer of security if anyone else tried to log in to the app on your phone.
Yolt just shades this category, because their app lets you log in using fingerprint recognition. But your data's pretty comprehensively secured, whichever one you use.
Winner: Yolt, but both are secure
Setting up your account
To get set up, you first have to create your account. Yolt can only be set up and accessed through the app. Money Dashboard can be set up and accessed either through their app or through a web browser. For many users, this feature makes Money Dashboard a clear winner.
Once you're set up, you need to connect an account.
Money Dashboard asks for a lot more information about your account, but, as with all personal finance apps, it depends which bank you're using. Customers of the bigger banks, such as Barclays, may find it takes a while to get access through Money Dashboard, but something digital-first, like Starling Bank or Monzo, will connect quickly and easily.
Money Dashboard is compatible with a much wider range of banks, but users often report a failure to connect. Yolt's range is, by comparison, pretty limited. The team works hard to improve this – there's a button to let them know if your bank isn't listed – but it can still mean you end up with a frustratingly incomplete picture of your finances.
Neither Yolt nor Money Dashboard fully supports joint accounts. With some providers, Yolt will show you your balance, but you can't access any other features.
Winner: Money Dashboard – just. Although Yolt's greater reliability when it comes to connecting is a big plus, Money Dashboard connects to more providers. And being able to access the dashboard through a web browser will be massive for some.
Interface and functionality
Both Yolt and Money Dashboard are user-friendly, but Money Dashboard makes your spending insights clearer.
Image source: moneydashboard.com
When you log in to Money Dashboard, you get a simple pie chart showing what you've blown all your cash on. The categorise are intuitive, and your transactions will, for the most part, find their way into the right category straight away.
This means you don't have to spend weeks re-categorising everything you buy. It's one of the best things about Money Dashboard.
Yolt's categories are less intuitive, so you may have to spend a little more time recategorising and waiting for the app to get the hang of your spending habits.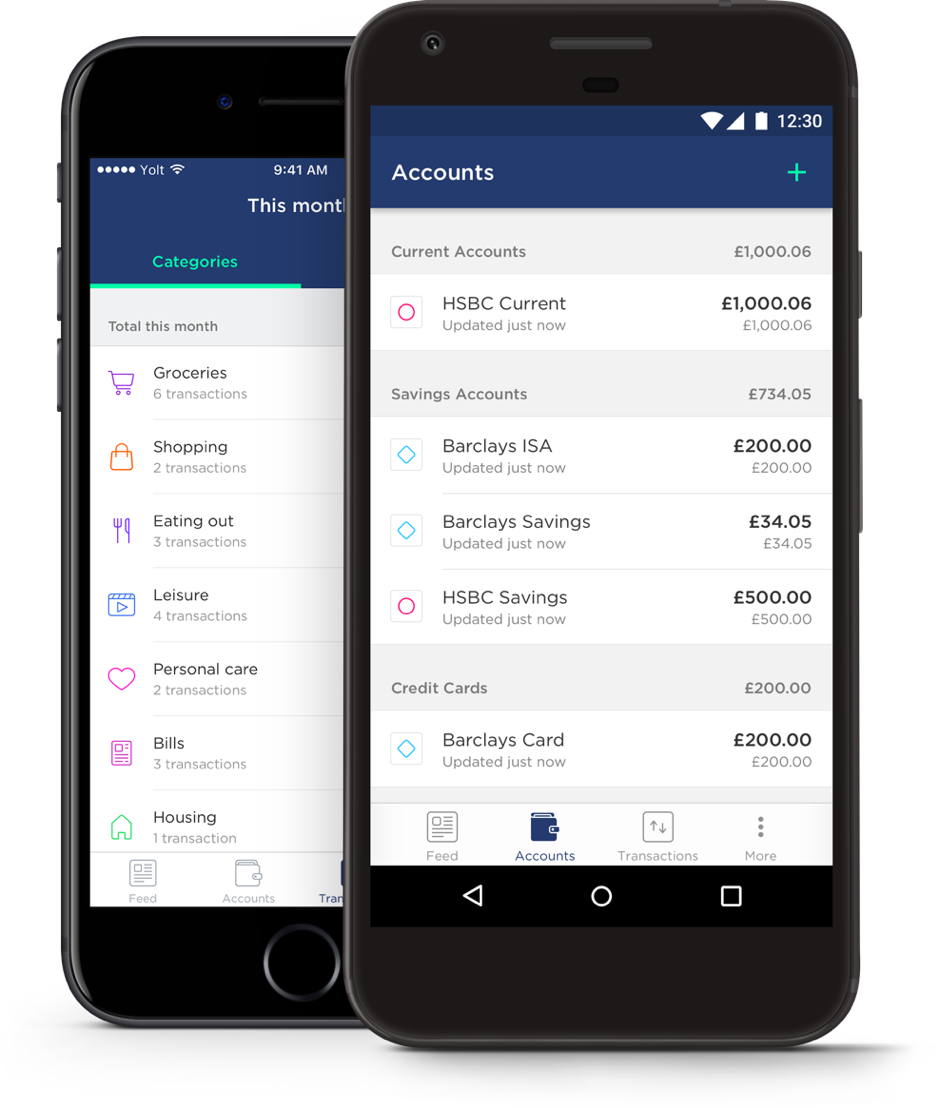 Image source: Pinterest
Money Dashboard also lets you create your own categories, which is great if you want to track a very specific kind of spending (such as gifts, if you're the generous sort). Yolt doesn't have this feature – although a lot of people seem to request it.
On Yolt, you can instead tag purchases – which is different to categorising them – and then filter your transactions by your tags. But this isn't quite the same because it doesn't let you compare your tagged transactions side-by-side with your spending categories.
Money Dashboard's functionality also has its flaws. Depending on your account provider, it can take a long time for your account to synchronise with your dashboard. A provider like Monzo or Starling will update in seconds, whereas some of the bigger banks and building societies, especially those with limited functionality, can take a very long time.
If you log into your bank using multi-factor authentication (that is, if you have a login process with multiple steps) you can't update your balance automatically at all.
Yolt compensates for its unintuitive spending categorisation with some handy additional features. Your Smart Balance shows you how much you'll have leftover once all your fixed costs are taken from your account, and this gives you a nice idea as to how much you've actually got to spend.
It also offers genuinely useful spending insights, telling you as soon as you log in which categories and merchants have received the biggest chunk of your cash. You can also see your average spend across categories, so you know if all that time you spent meticulously creating budgets was worth it.
Both Money Dashboard and Yolt let you set specific budgets for specific categories. This feature is a bigger benefit with Money Dashboard, because it lets you create your own categories.
Winner: Money Dashboard, for its more intuitive spending categorisation and custom categories – although some might find the occasional long delays for your bank to synchronise a major drawback.
Customer service
Both Money Dashboard and Yolt could do with an upgrade here. Unlike many of the newer budgeting apps – Emma, for example - neither offers in-app live chat with a customer service team.
But though neither platform leads the way when it comes to customer service, of the two Yolt does a better job.
With Money Dashboard lets you fire off a message into the ether about whatever issues you're having. Yolt streamlines this process by offering suggestions for frequently asked questions, like "I'd like to request a bank" and "I have a suggestion for Yolt".
Winner: Yolt, although neither does customer service as effectively as some of their other competitors.
The future
The team at Money Dashboard are always tinkering with their platform to offer you the best, most user-friendly budgeting experience possible, but there aren't many massive features on the horizon.
Yolt, on the other hand, has some exciting things planned for the future. For a little while now, they've partnered with other FinTechs to give you access through the Yolt app to a ton of handy financial apps and gadgets.
For instance, the app refers you to home insurance brands like Homelyfe, investment apps such as Wealthify, and pension providers like PensionBee.
This is a great option if you're the kind of person who wants to run their entire financial life through digital apps – Yolt helps you get started by telling you where to look. (The referrals from these partnerships is how Yolt makes their money.)
In October 2018, Yolt announced plans to take this a step further through Yolt Connect, which they describe as a "personal money ecosystem". Using extensive feedback from the Yolt community, they plan to find new ways to develop Yolt into a fully integrated financial hub.
It's early but exciting days.
Winner: Yolt. The team at Money Dashboard continue to tweak and refine the product, but Yolt, with its ability to connect with and recommend other financial products, feels like it has more potential.
Verdict: If you're looking for a flexible, no-nonsense budgeting platform, and you don't have time for all this fancy app-based wizardry, Money Dashboard is probably the option for you. Although it occasionally feels a little clunkier than Yolt, it connects to an impressive range of providers, and its sophisticated tagging of transactions and ability to let you add new categories makes it a great "at-a-glance" option.
Yolt's the winner for those seeking the full app-based budgeting experience. It offers more insights, operates a little more slickly, and does some pretty clever analyses of your spending. Before long, you'll be able to get personalised recommendations of financial products through the Yolt app, and the Actions tab is really useful for helping you get a more complete grip on your finances. It's a great alternative to Money Dashboard, even if it can't always match it for simplicity of use.
Have you used Yolt or Money Dashboard? If so, leave us a review, and let us know what you think of them.