What is car finance?
If you do not have the money to buy the car you want, you can apply for a car finance agreement. This agreement usually requires a small deposit and then monthly repayments until the balance is paid off.
The lender will charge a rate of interest on the loan so you will end up paying back more than the car price.
There are three types of car finance available:
Hire Purchase (HP)
A hire purchase loan is secured against the vehicle so you won't own it until the final payment has been made. If you miss a payment, the car can be repossessed and if you wanted to sell the car within the loan period, you must ask the permission of the lender. This option can be more expensive than a bank loan.
Personal Contact Purchase (PCP)
This type of car finance is best suited to those who want to change their car frequently. The agreement is that you pay a small deposit and then low monthly payments over a fixed period. At the end of this you have the option to pay a 'balloon payment' (lump sum) so you own the car outright, return the vehicle or sell it privately to pay off the balance on the loan.
A PCP loan would mean agreeing to mileage limits and keeping the car in good condition. If you are planning on keeping the car at the end of the agreement, an HP loan could be a better option.
Getting car finance with bad credit
Having bad credit reduces your chances of getting a car finance agreement, or it can mean you get offered an extremely high interest rate on the amount borrowed. However, there are lots of companies who specialise in bad credit loans.
If your credit history is very bad, you could look at asking a friend or relative to be a guarantor, especially if they have a good credit rating. The risk here is that you could miss a payment and this will not only affect your credit rating but also that of your guarantor.
Pros of getting bad credit finance
1. You can borrow the money you need to buy a car
2. As long as you keep up with your payments, this loan can actually help to improve your credit score
Cons of getting bad credit finance
1. The rate you pay will be much higher than any normal loan, meaning you will pay back a considerable amount of money in interest on top of the amount you need to borrow
Car finance with 0% interest
A 0% car finance deal, also known as interest-free, is a type of finance where you aren't charged interest on the amount you borrow. You only have to pay a deposit, in some cases, and then a series of monthly payments until the end of the finance deal.
Essentially, you are paying the same for a car as a cash buyer but are given the opportunity to spread the cost over a longer term.
O% deals are not usually done through banks but, instead, through the car maker itself and commonly on new cars. This way, they still get the same amount of money but it is earned over a longer period.
This type of finance deal is hard to get unless you have an excellent credit history and score. Car dealers try to bring in customers with the offer of 0% and then when they are refused, offer them a higher interest rate instead.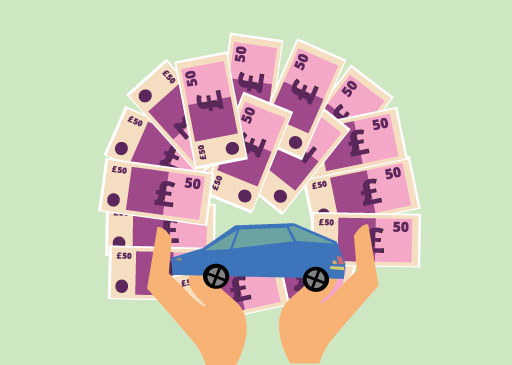 Car finance calculator
To make sure you can afford a new car, be sure to look at your finances carefully, taking into account all of your outgoings and your ability to keep up with repayments should you lose your job or have a financial setback.
A good way to work out the repayments is with a car finance calculator. Most lenders supply one on their website, so you can see exactly what monthly repayments you would be agreeing to and whether this is feasible with your income and expenditures.
Which credit reporting agencies do car finance companies use?
The three UK credit reference agencies are Equifax, Experian and Callcredit.
Car finance companies will check your credit history through one or more of these agencies to get a full picture of your finances, and whether you can keep up with the repayments.
Who regulates car finance?
Before April 2014, car finance was regulated by the Financial Services Authority (FSA). It is now regulated by the Financial Conduct Authority (FCA) and the Prudential Regulation Authority (PRA).
Both authorities are in place to protect consumers, financial markets and promote competition between the many lenders.
Car finance and other credit
Applying for car finance should not negatively impact any other application you are making, or will be making in the future.
Credit reporting agencies allow people to shop for the best deals on car finance by counting any enquiries within a certain period as one single enquiry. The time period varies between agencies but is usually 14 days – giving plenty of time to be preapproved by a lender, or for a car dealership to shop around for a loan application with multiple lenders (sometimes referred to as 'shotgunning').
If you are thinking of applying for a credit card or a mortgage, as long as your finances show that you can afford both lines of credit, then this should not create problems.
Can I get car finance if I'm not employed by a company?
Are you self-employed or out of work and on benefits? Don't worry. You can still be accepted for a car finance agreement with several companies specialising in applications for those not working for a company.

Self-employed

As a self-employed person, you can apply as an individual or on behalf of your business.

If you go down the business route, you will need to have been trading for a minimum of two years and the net amount of profit will need to be double the amount you wish to borrow. To prove your income, most lenders will ask for three months' worth of bank statements as proof of income.

As an individual, a similar process will happen with the last three months' bank statements needed. Lenders will then usually divide the total income by three to get an average income to base credit limits. Proof of address and employment history will also be required for the last three years.

Not working/On benefits

If you are currently not working but you are on benefits, you can still be accepted for car finance. As with any credit inquiry, there is no guarantee of acceptance, but some lenders will accept the following benefits as income:

Income Support
Child Tax Credits
Working Tax Credits
Housing Benefits
Disability Allowance (DLA)
Carers Allowance
Personal Independent Payment (PIP)
As well as showing a steady income from these benefits, you will also need to have a UK driving licence and a current credit history that is good. Bad credit lenders tend not to agree loans to those who are not employed.
Why was my car finance declined?
Common reasons for a declined car finance application include:
Weak or no credit history (lenders like to see how you have handled credit in the past)
No electoral roll presence
Evidence of missed payments
County Court Judgements (CCJs) against you
However, the only way to find out exactly why you have been declined is to speak with the lender directly. They should be able to give guidance on the main reason for the refusal, which should hopefully allow you to take action to stop this happening again.
Although credit reports show that you have applied for credit, lenders won't be able to see if you were turned down for it. Meaning that an unsuccessful application for credit will not affect your credit rating.
Who offers the best car finance?
With so many lenders out there, it can be hard to know the best ones to go for. Our Smart Money People community have been reviewing their car finance providers so you can see who is the best for customer care, value for money or interest rates, as well as helping you to dodge the worst. So whether it's a large, well-established company like carfinance247, a broker like Zuto car finance, car supermarket-style finance from Arnold Clark, or a smaller more local company like , check Smart Money People before making up your mind.
Still wondering which company might be right for you? Read our car finance reviews to find out the best car finance deal for you, or place your vote in the Consumer Credit Awards from 3rd April - 2nd July for a chance to win £1000 cash!