360° Dashboard
A market-moving dashboard that delivers high quality competitive benchmarking, helps firms to reduce complaints, and builds better products.
360° delivers the voice of the customer in financial services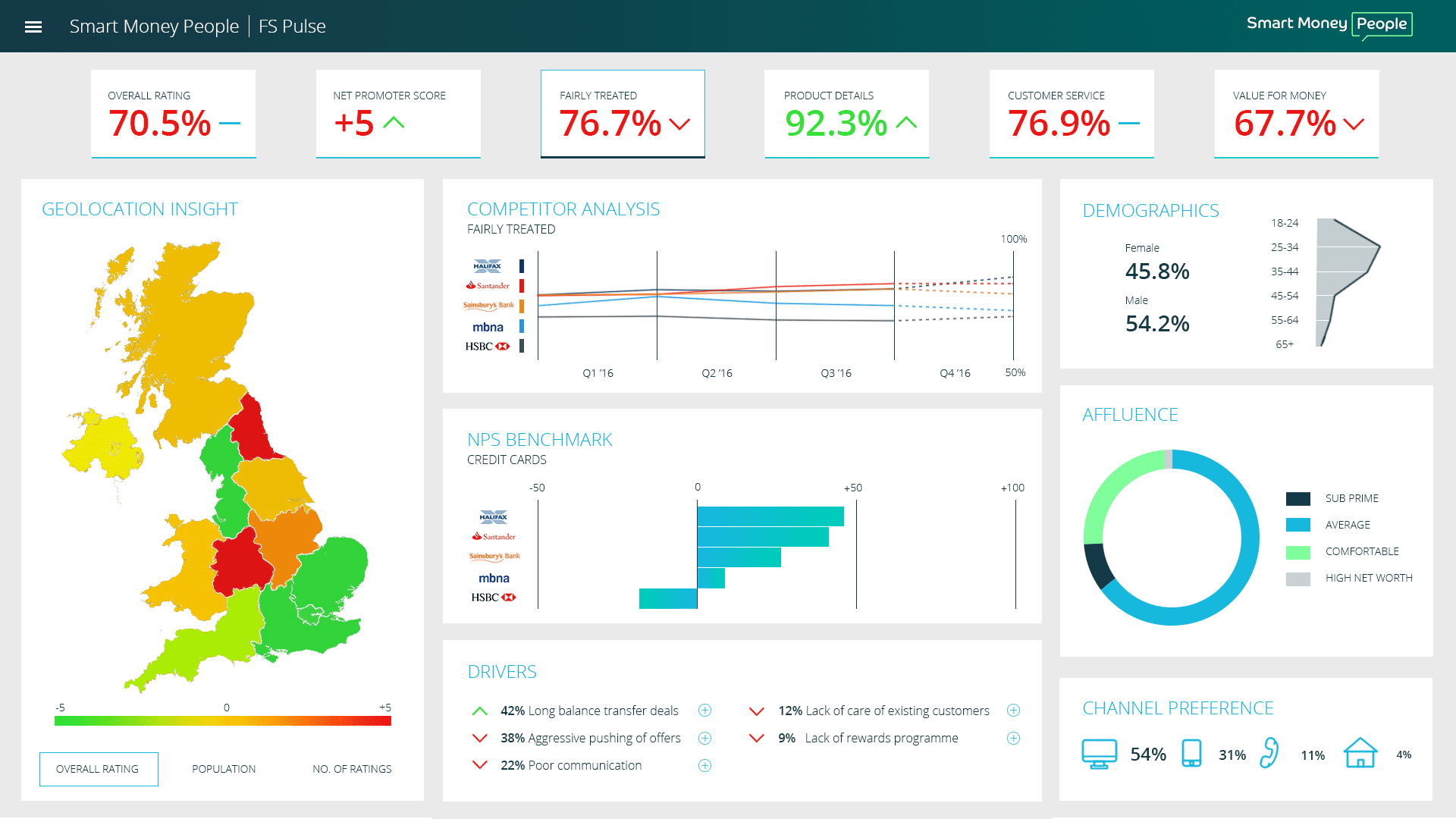 360° is a rich and real-time customer insight dashboard underpinned by a unique data set that is consumer volunteered and provides quick identification and prioritisation of issues to drive change.
Our data set
Our unique and rich data set powers Smart Money People 360°. For example, we capture both performance and regulatory metrics across all leading financial products and financial firms. We also understand more about the people leaving this feedback.
Our review data:
Brand
We have data on over 1000 UK financial firms
Product Type
Our data is structured at the product category level
Product Name
We also know which specific product a consumer has
Overall Rating
Consumers provide an overall rating out of five
Review Title
Consumers sum-up their review in a couple of words to give us the headline story
Net Promoter Score (NPS)
We ask consumers whether they would recommend a firm to friends or family
My Review is About
We pinpoint where in the customer journey consumers are when writing a review
Free Text Description
On average consumers volunteer 244 characters of text per review
Customer Service
Consumers provide a 1-5 rating
Value For Money
Consumers provide a 1-5 rating
Understand Product Details
We ask consumers whether they understand the product details. When they say 'no' or 'not sure' we ask them to tell us why
Treated Fairly
We ask consumers whether they feel fairly treated. When they say 'no' or 'not sure' we ask them to tell us why
Our user profile data:
Location
We track the UK region of our panel
Age Profile
We use six age groupings to profile of our panel
Gender
We track the gender of our panel
Affluence
We use four groupings to profile the affluence of our panel
Channel Preference
We ask our panel to tell us about their preferred channel: branch, phone, app or online
Behavioural Profiles
We encourage consumers to leave >1 review which helps us to build behavioural profiles and find out more about them
Our data powers the industry
Our data and insight is used by banks, insurers, building societies and trade associations. It's also been featured in a range of publications, including The Spectator, BBC News and The Sunday Express.
Want To Hear More?
Contact the Smart Money People team today to find out more about how we can help your business.