About the Home Insurance
The Admiral home insurance reviews on Smart Money People are written by ordinary people like you. We've got thousands of genuine reviews to help you select the right cover for your home, lifestyle and budget. Your home is likely to be the most expensive purchase you ever make, and home insurance protects everything inside your home too, from fixtures and fittings to your possessions, so it couldn't be more important to make the right choice. Admiral is one of the most well-established insurance providers on the market, and our Admiral home insurance reviews span various levels of cover, as well as the different types of protection it offers, from buildings insurance, to contents insurance, to combined, so you're sure to find recommendations relevant to you. Have you ever had a policy with Admiral? You can tell us about it by leaving your own review below. If you're not sure what to write about, why not include your experience with customer support, how you found the sign up process, or share your thoughts on whether it's good value for money. Including details such as the kind of policy you've taken out or whether it was easy to claim can also help other homeowners make the right decision. Smart Money People is the UK's largest financial services review site. Together, we can help to increase trust and transparency in financial services. Leave an Admiral home insurance review below.
Review Admiral: Home Insurance now
Help others make smarter decisions by sharing your own experience.
Write a review
Admiral Home Insurance reviews (
10975

)
Good prices, good communication
I've had admiral home contents insurance for a few years now and they are very good at communicating through email and informing me of small price rises each time I renew which always beat the prices of other companies. I like how they operate and will continue to use them!
Reviewed on: 31st May 2023
Never had to claim
Easy to set up and affordable, just jopebi never have to claim.
Reviewed on: 31st May 2023
AVOID Home Emergency Cover
My boiler broke down just before the new year, with water leaking out from behind the water pump. Trying to get this resolved with Admirals Home Emergency Cover has been a nightmare. They subcontract this service to third parties, who subcontract this service to third parties, who subcontract themselves, and so on... It took me four separate assessments (and over a month of not heating or hot water) to identify and "fix" the boiler. But in the process, they broke the flue, causing gasses to leak into my house once the boiler was finally operational. They refused to attend before I got the gas board to isoate the supply, then refused to come out because their engineers were NOT GAS SAFE REGISTERED and so couldn't turn the gas back on to test for leaks. Because of the damage caused by their engineers, I have ended up having to buy a new boiler. Combined with other damage caused while the engineers were visiting, and from the incredibly slow resonse times I have experienced, Admiral Home Emergency Cover has actually put me in about £4K of debt. Compounding all this is their terrible customer complaints procedures. The only way to raise a formal complaint is by letter or email, you cannot speak to a complaint handler directly. It took them fifteen weeks to respond to my initial email (the FCA maximum is twelve), and they are yet to respond (five weeks later) to my almost immediate response highlighting where they had misrepresented the facts of my complaint. I have been an Admiral customer for many years, but this experience has thoroughly soured my good sentiment towards them. This is not what you expect when you buy insurance. I reccomend you AVOID AT ALL COSTS.
Reviewed on: 17th May 2023
Good value Household insurance
Admiral comes out as cost-effective and one of the better-value household insurance provides on many comparison sites. They have good reviews and have won insurance awards
Reviewed on: 27th April 2023
Do you have a different Admiral product?
Share your experiences with products to help others make smarter financial decisions and learn more about different products available.
Write a review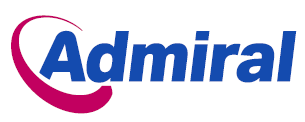 There's still more to see!
Admiral has a range of products available. Check the ratings of each product to find the right one for you.
View all products