About the Car Insurance
Find out what genuine customers have to say about Admiral by reading the Admiral car insurance reviews on Smart Money People. Admiral was launched in 1993 specialising in car insurance. Nowadays, the company offers a variety of policies and has expanded its options for motor insurance to include policies for electric vehicles, learner drivers and a multi car policy. Consider what's most important to you. Do you value a low-cost premium, or would you benefit from the peace of mind that comes with a higher level of cover? Do you plan to include any optional add-ons? Do you have multiple cars to insure? Whatever your needs, learn what genuine customers think of Admiral to find out if it's the best provider for you. Have you had a car insurance policy with Admiral? Consider leaving a review on Smart Money People to help us increase trust and transparency in financial services. Were you satisfied with the cost of the premium for the level of cover you received? If you've used the multi car policy, did you find the price to be competitive compared to individual policies? Did you have to make a claim, and if so, how well was it dealt with? Leave an Admiral car insurance review today and share your experience.
Review Admiral: Car Insurance now
Help others make smarter decisions by sharing your own experience.
Write a review
Admiral Car Insurance reviews (
20672

)
Very little help with my non fault claim when I needed them. Emails ignored, impossible to contact on phone,confusing letters sent out of the blue. Found dealing with them more stressful than the accident itself
Reviewed on: 1st February 2023
Admiral who's looking after your car?
I'm just going to explain my experience with Admiral insurance, in November I had an accident no other vehicles involved , which ended with my car being collected from a garage and being taken for storage by Admiral insurance. Admiral use a company called Copart which looks like a very reputable company as you would expect from a major insurance company like Admiral, unfortunately for me Copart subcontract to a company called West Midlands Machinery ltd (I wonder if Admiral are aware of this ) West Midlands collected my car and took it for storage to their "secure" storage location ( Unit A Sandfield Bridge, Brierley Hill DY5 4UG ) please use Google maps satalite view to look at this location and ask yourself would you be happy for your vehicle to be stored in this " professional storage location "for overnight storage before transferring to Copart ,I wonder why not straight to Copart 5- 10 minutes away . After about a week the vehicle was returned to me at the garage who were going to carry out the repairs but unfortunately on return the car was minus the expensive Catalytic converter (£1000 plus ) damaged bodywork and damaged alloy wheels this is only what I know about there could be more missing from the car . The mechanic refused to take the vehicle in the condition it was so returned to Copart. Copart say the damage and catalytic converter was already missing . Copart said they have carried out an internal investigation and supplied a word document saying vehicle was tracked from my garage to West Midlands Machinery ltd "secure" compound and then to Copart compound (10 minutes away ) and that's it ,surprise surprise have found themselves and West Midlands Machinery in the clear and state they did not remove any expensive parts or damaged the vehicle. As of yet Admiral are still looking into it . I believe someone thought that the vehicle was being scrapped for salvage and just helped themselves. Admiral need to do company checks on who they are getting to do their work because at the end of the day it is there responsibility and disappointed that a company like West Midlands Machinery can do work for Admiral.
Reviewed on: 31st January 2023
Admiral insurance are scammers. Don't insure your car with them. They are unhelpful, they don't provide full cover in the small print. If you have a problem, you are on your own. They are disgraceful.
Reviewed on: 30th January 2023
Really terrible experience. I cancelled my policy after 3 and a half months to go onto the same insurance as my partner and after having the £55 cancellation fee paid they've managed to swindle me out of a further £150. No way to get my money back or resolve over the phone. Do not get insured with them if you can avoid it. The people on the phone are generally really nice but the system that are operating within is designed to get as much money out of policy holders as possible.
Reviewed on: 29th January 2023
Do you have a different Admiral product?
Share your experiences with products to help others make smarter financial decisions and learn more about different products available.
Write a review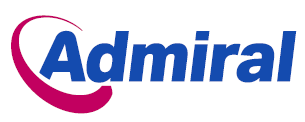 There's still more to see!
Admiral has a range of products available. Check the ratings of each product to find the right one for you.
View all products