Voting in the Insurance Choice Awards 2018 is now open!
The Insurance Choice Awards aim to find the UK's best insurance companies by asking customers like you to vote and share your experiences…it's a bit like the X Factor, but for Insurance! Who'll win? Only you decide!
Smart Money People launched the Insurance Choice Awards back in 2016, and they've since become the largest consumer voted awards for the Insurance industry, with over 27,000 consumers voting in 2017. Press in 2017 included The Spectator Money and Insurance Business Magazine.
What makes the Insurance Choice Awards special?
Our awards are unique because there is no 'expert panel' in sight. Instead, we ask consumers to share their customer experiences with us. We're also particularly proud of the mix of firms that take part and take home an Insurance Choice Award. In 2017, these firms included young start-ups, small brokers as well as the UK's biggest insurance providers.
Founder of Smart Money People, Mike Fotis said, "Insurance is still a bit of a minefield for many consumers. We run the Insurance Choice Awards to give consumers the chance to share their experiences, and ultimately find great companies to do business with. Every firm involved in these awards is helping to make our mission of increasing trust and transparency in financial services a reality, and should be proud of being part of the Insurance Choice Awards 2018."
Key dates
Voting Commences: 2nd July 2018
Finalists Announced: 10th September 2018
Voting Ends: 23rd September 2018
Awards Event: 4th October 2018
New for 2018
This year we've added four new categories to the list of awards. These new categories include: Insurance Vendor of the Year, Best Income Protection Insurance Provider, Best Home Emergency Insurance Provider, & Best Health Insurance Provider.
Award categories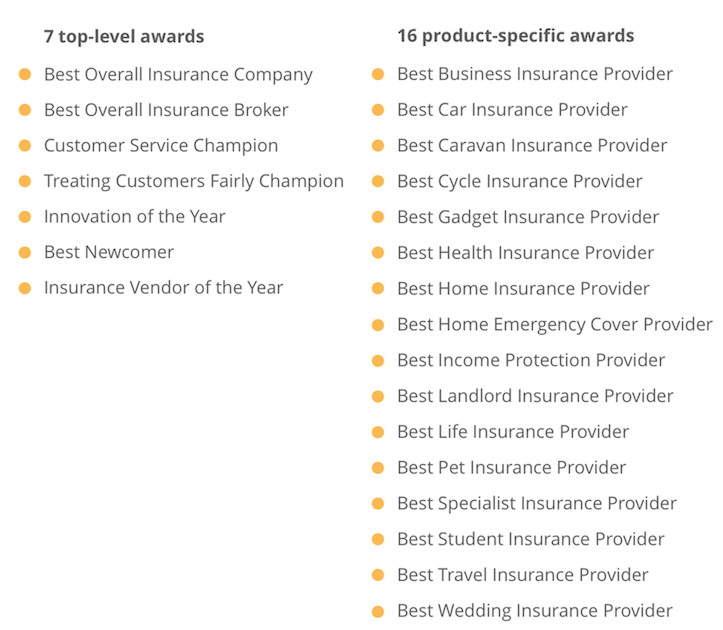 Why vote?
If you'd like to share your insurance experiences, please click here. You'll be helping us to identify the firms that really are a cut above the market. You'll also be entered into our prize draw to win £1,000!
Winners announced on the 4th October 2018
The Insurance Choice Awards winners will be announced on the 4th October at an ultra cool event at Café de Paris in London. The awards ceremony will include a great mix of networking and entertainment, plus a few surprises to help bring the event to life!
If you're an insurance firm and would like to find out more about the Insurance Choice Awards, you can view our Media Pack here or contact us to discuss further.