Life insurance might not be the most exciting thing to spend your money on, but most of us reach a point in our lives when it becomes a sensible investment. Once you're on the property ladder or settled down with a partner and kids, it gives you the peace of mind that they'll be protected should anything happen to you - however horrible that thought might be!
But there's no denying that life insurance can be a bit of a minefield, with loads of complicated lingo to get your head around, plus small print that's sure to make your brain hurt. So, to give you a head start and make your search a little bit easier, here are 11 important nuggets you should know…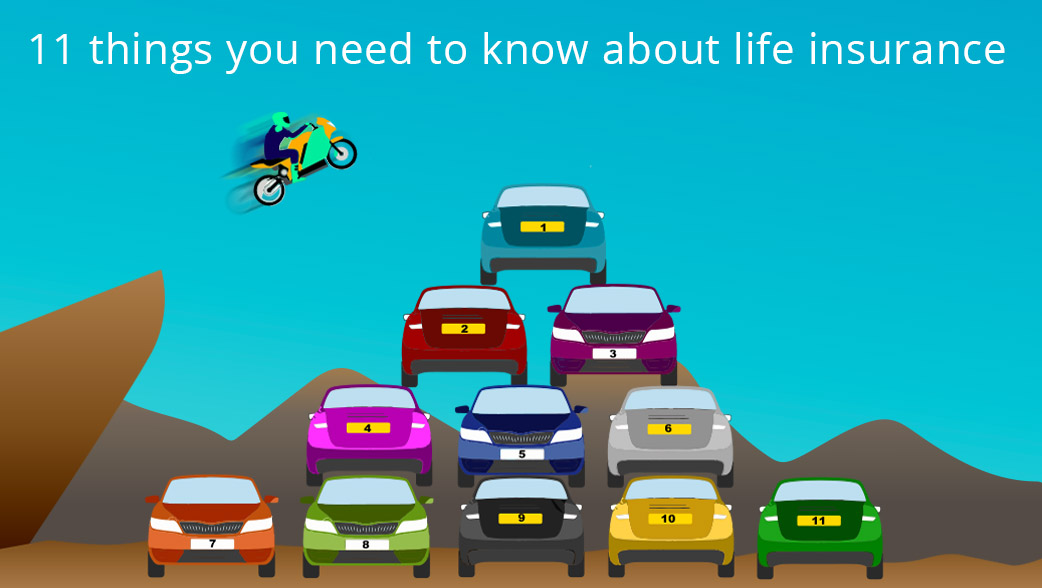 1. It's not just for bread winners: Life insurance is typically advised for those with dependents who rely on their income, to ensure they can maintain their lifestyle and cover outgoings in the event of death. However that doesn't mean stay-at-home parents shouldn't also consider taking out protection, with research showing their vital role would cost as much as £30,000 to replace if they passed away. New parents can access £15,000 of 12 months free life insurance cover from Aviva if their child is 4 years old or under.
2. Do your sums carefully: When calculating your cover, take into account your current salary, any debt repayments including your mortgage, and any lump sums you might want to pay out for things like funeral costs or university fees for your kids. Remember to also bear in mind any 'death in service' benefits you might get through your employer and subtract this from the total, as this will cover a portion of what you need.
3. Terminal vs. critical illness cover: Life insurance providers will often give you the option to include terminal illness cover in your policy for an additional cost. This pays out as a lump sum if you're diagnosed with a terminal illness – usually where you have 12 months or less. However, be careful not to confuse this with critical illness cover which is broader and includes illness that aren't necessarily terminal. Check the terms and conditions carefully so you know what the specific criteria are for each policy.
4. Keep reviewing your policy: Taking out life insurance when you're young is a good move, as it invariably gets more expensive as you get older. However, do make sure you review your policy as your needs change, for example, as you have kids (or more kids!), if your partner stops working, or if you start a new job with more (or fewer) benefits. This ensures you're not paying for more or less cover than you need.
5. Shopping around is key: There are loads of places where you can buy life insurance, including your bank, mortgage provider or credit card company, a specialist broker or financial advisor (IFA), or an online comparison site. There are also new and upcoming robo-advisors that specialise in life insurance, enabling you to do the whole thing from an app. Sherpa for example will be a mobile-first life insurance robo-adviser for the self-employed. So, don't always go for the easy option, as there might be a cheaper and more suitable one out there for you.
6. Assurance and insurance are different: This is where it gets pretty confusing. Most of us would consider them interchangeable but life insurance and life assurance are actually different things. With life insurance, you decide on a set term for the cover at the start of the policy – usually between 10 and 25 years. So, you'll only receive a payout if you die within that period. In contrast, life assurance, AKA whole-life insurance, covers you until you pass away - even if you live to 120!
7. Your health may be assessed: Understandably, life insurance providers will need details of your health and any existing medical conditions, so be prepared to answer questions around these - you may even be asked to undertake a medical examination in some cases. And be aware that if you already have a serious health problem, your policy might not pay out in the event of death resulting from that illness. Check terms and conditions or have a chat with the provider if you're worried about this. Insurers such as VitalityLife reward you with points for being active, which can then be traded for reward such as Starbucks coffee and cinema tickets.
8. Joint cover might not be the best deal: If you and your partner are both keen to get covered, some providers give you the option to take out a joint policy. However, before you sign on the dotted line, make sure you look at how this compares with two separate policies, in terms of price and the level of cover you get for your money. One important factor to consider is that a joint policy will only pay when the first partner passes away, not the second.
9. There could be tax implications: While life insurance policies aren't subject to income or capital gains tax, they can be included in inheritance tax, alongside your other assets. If you're worried about the impact this could have on your loved ones, the best route is to write your life insurance in trust, which means that it will be ring-fenced from the rest of your estate. An IFA can help you with this.
10. Your mortgage provider may require it: Life cover isn't a legal obligation like with car insurance, however most mortgage providers require you to take out a policy in order to lend to you. In fact, many lenders will offer life cover automatically when they sell you a policy, but be warned that this is likely to be at an inflated price, so it may be better to shop around. In the case of a mortgage, the most suitable cover is decreasing life insurance, which means the amount paid out will decrease in line with your mortgage payments. This is a type of life insurance (rather than assurance) and is usually cheaper than other types.
11. Need added peace of mind? If you're worried about what you would do if unable to work and cover your premiums due to serious illness or injury, then look out for a 'waiver of premium' option. It will cost you a bit extra but means that your premiums would be covered if you're incapacitated due to illness, injury or disability. So you wouldn't lose out on your life protection on top.
Now you should be all set! Life insurance is one of those things that once you have it, you can more or less forget about it, other than a review every now and again as you go through different life phases. And that small effort now will make the world of difference to your loved ones in the future (hopefully very far in the future!) and give you valuable peace of mind until then.
Vote for your favourite life insurance brand in the 2018 Insurance Choice Awards and help decide who takes 'Best Life Insurance Provider' home this year. Could it be VitalityLife, Beagle Street, Aviva, Smart Insurance or someone else? You are the judge!