This week, we've got a head to head customer satisfaction analysis between two leading high street retail banks, Halifax and Santander.
We've taken a look at two of the most commonly held products, current accounts and credit cards, and analysed customer satisfaction ratings across the buying and servicing of these products.
Current accounts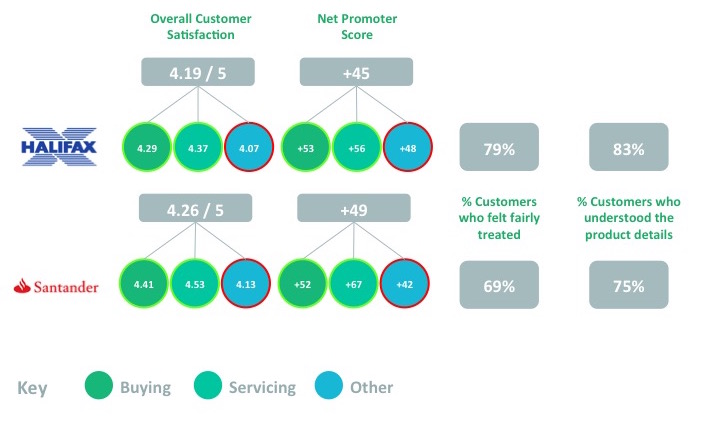 Credit cards
Boiling it down
One of the notable trends is that customer satisfaction is lower during the buying process than during the day-to-day servicing of current accounts across Halifax and Santander. The opposite is true with credit cards

Halifax credit cards appear to be a significant area of dissatisfaction, with an overall customer satisfaction rating of 3.95/5

Although Santander has higher customer satisfaction across its current account products than Halifax, the percentage of customers who feel that they have been fairly treated is noticeably lower than Halifax (69% vs 79%)
Next week
We'll look at the root cause of some of our neutral reviews, and how this population can be developed intro brand advocates.
Share: Please share our insight series with your colleagues by using the buttons below.
Feedback or ideas? Send us your thoughts for future topics by clicking here.
Subscribe here to receive future insight via email.
Missed last week's post? We published our hierarchy of customer happiness in banking and predicted how this will change by 2020.
About Smart Money People Insights
We have a unique pulse on the financial services industry. Our customer insight spans a cross-section of financial organisations and includes quantitative and qualitative performance and regulatory insight at scale. Smart Money People Insights is a new series designed to give back this insight in bite-sized chunks.
Methodology
The data used to create this post has been sourced from our Halifax reviews and Santander reviews.